Nitrous Oxide Sedation – Frisco, TX
Safely Relieving Dental Anxiety
Does the idea of going to the dentist make your heart beat faster? Have you been meaning to get some dental work done but been too nervous to actually schedule an appointment? If this sounds like you, then you're definitely not alone. Millions of Americans suffer from dental anxiety to the point where they avoid getting the treatment their smiles need. As a sedation dentist in Frisco, Dr. Marco Caballeros understands this, which is why he offers nitrous oxide sedation. This solution is a completely safe and stress-free way to make getting dental care easier. If you're ready to put dental anxiety behind you, contact our team at On Point Dentistry™ today!
Why Choose On Point Dentistry™ for Nitrous Oxide Sedation?
Safe for Patients Young and Old
Children with Special Needs Welcome
Kind and Caring Dentist and Team
What Is Nitrous Oxide Sedation?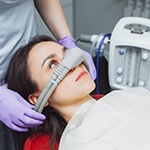 Nitrous oxide is a colorless, odorless gas that is breathed in via a small mask that we place over your nose. Within minutes, this sedative causes warm waves of euphoria to wash over you, making you completely relaxed and at ease. Some patients even get the giggles, which is why nitrous oxide has earned the nickname "laughing gas." While you'll remain awake, most patients have very little if any memory of their procedure after the sedative has worn off.
Is Nitrous Oxide Sedation Right for You?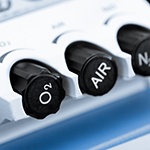 Many people with mild to moderate dental anxiety are good candidates for nitrous oxide sedation. However, it could also benefit patients who:
Have sensitive teeth or gums
Have an overactive gag reflex
Are afraid of needles
Must undergo extensive dental treatment in one sitting
Have trouble becoming numb with local anesthetic alone
Are children with special needs
Have difficulty sitting still for an extended period of time
If your anxiety is more severe, you might be better off with a different form of dental sedation. Additionally, certain medical conditions or medications might negatively interact with nitrous oxide. During your consultation, Dr. Caballeros will go over your medical history and ensure that nitrous oxide will be perfectly safe for you.
What Can You Expect During Your Procedure?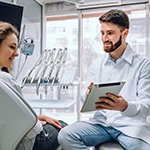 Once you get settled into the dental treatment chair, we'll place the mask over your nose and begin administering the nitrous oxide. You'll become completely relaxed in just a few minutes. Your pain receptors and gag reflex will also be suppressed, making dental care much easier for our team as well as you.
After we've finished your procedure, we'll remove the mask and take you to a waiting area. The effects of the nitrous oxide should wear off within half an hour or so of breathing regular air. In fact, the majority of patients are able to drive themselves back to work or home and continue their normal days afterward.