Advanced Dental Services & Technology – Frisco, TX
Modern Dentistry All Under One Roof
The field of dentistry is always changing for the better, and our Frisco team wants to do everything possible to stay on top of these advancements. Whether it's utilizing state-of-the-art technology or harnessing new techniques that we feel will improve the patient experience, Dr. Caballeros is able to deliver. At the end of the day, improving patient comfort in the dental chair, more efficiency and exceptional clinical precision are all high priorities. Furthermore, our specialty services are not common in other dental offices. To learn more about advanced technology, schedule your first appointment by giving us a call!
TMJ/TMD Therapy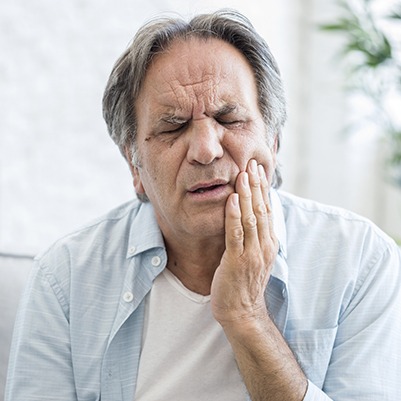 Do you suffer from chronic jaw pain and headaches but have no idea why? Also known as TMD, TMJ disorder could be the cause of your pain. In this instance, the pain is likely stemming from the temporomandibular joints. These joints control the complex movements of your jaw. If they experience excess strain or dysfunction, it can lead to unpleasant symptoms, such as pain. Our dental office is quite familiar with TMJ disorder and offers multiple solutions to manage and reduce your symptoms. Whether that's via an occlusal splint or clinical bite adjustments, our goal is for you to leave with a healthier smile and pain-free jaw!
Intraoral Camera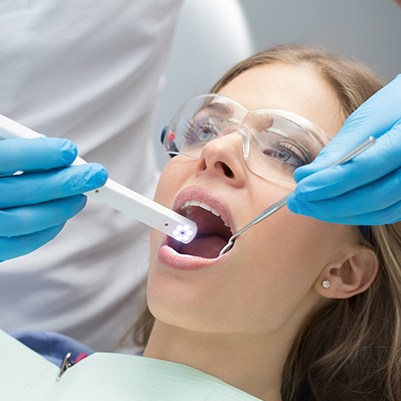 When you're not able to see what your dentist sees, it can easily make you feel alienated during your routine exam. With the help of modern intraoral cameras, that completely changes. During your routine checkup, one of our team members will use the handheld, camera-tipped wand inside your mouth and capture highly detailed images. These images are then displayed on a nearby monitor for easy viewing. We'll then use these images to explain our findings and make exploring treatment options easier for the patient.
Digital X-Rays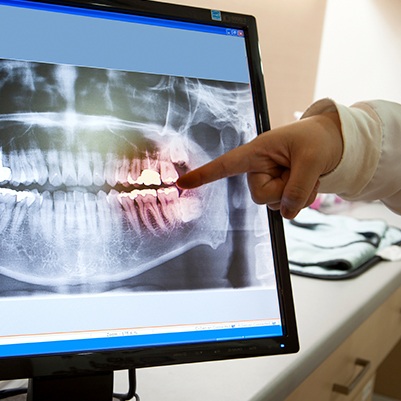 Without the use of X-rays, we wouldn't have nearly as much useful information about your teeth and gums as we could. The use of digital X-rays is ideal for diagnostic care and much easier than traditional X-rays of the past. We do not require hazardous chemicals, darkrooms or long waiting times just to develop images. Instead, they are developed instantly! As a bonus, radiation exposure is significantly lower, making the process safer for patients of all ages.
CT/Cone Beam Scanner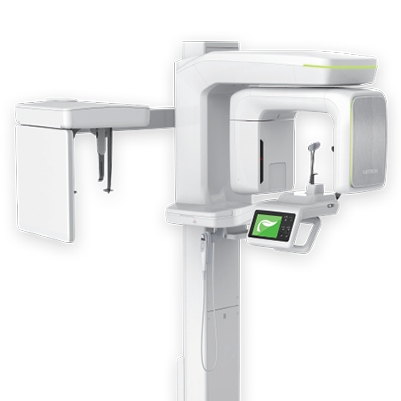 Digital X-rays are essential to routine care, but they cannot always tell us everything that we'd like to know. When planning more complex procedures like dental implant surgery or root canal therapy, we need technology that provides truly exceptional precision and detail. Through the revolutionary VaTech CBCT scanner, which stands for Cone Beam Computer Tomography, we can create 3D, panoramic cross-sections of your many oral structures. This includes your facial nerves, sinuses and the overall jaw. With more data about your oral structures, we can create better treatment plans and ensure more success.
Digital Impression System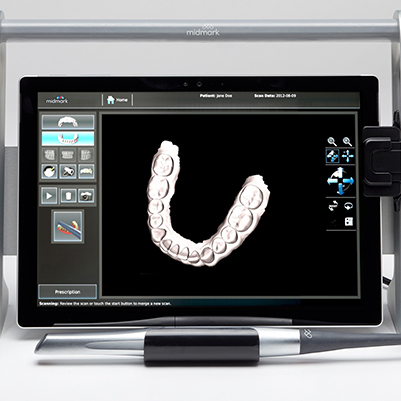 There are few sensations less pleasant than biting into a tray filled with gray impression material. Typically, this process is used for creating accurate impressions, which can be turned into nightguards or dental restorations. Unfortunately, most patients detest the impression process. That's why On Point Dentistry™ has invested in a 3M digital scanner! This device removes the uncomfortable step of biting into impression material and produces fast and accurate results! With this scanning technology, we can easily design restorations reliably, with greater detail, and more efficiency.
iTero 5D Imaging System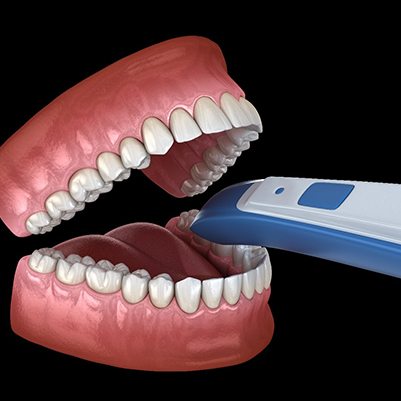 In the past, patients had to simply imagine what their smile would look like after treatment. With this 3D simulation technology, we have the capability to give you a clear idea of the end result. You can feel much more confident going into a procedure, knowing that you'll love how it turns out before we even start. This device also helps identify cavities between teeth, where decay can more easily go unnoticed, without the use of radiation.