Root Canal Therapy – Frisco, TX
Get Pain Relief and
Save Your Tooth!
If one of your teeth is experiencing severe pain, it could mean there's an oral infection present. If so, root canal treatment will be needed to not only remove this pain, but save your tooth. Dr. Caballeros performs root canal therapy in Frisco, TX at On Point Dentistry™, effectively removing any remnants of your infection and getting your tooth back to normal. After removing infected tissue and irrigating the canal, we'll fill the tooth with a unique substance known as gutta percha. This reduces the risk of reinfection later. Lastly, we'll cover the tooth with a crown, restoring it to its original function and beauty.
Why Choose On Point Dentistry™ for Root Canal Therapy?
Same-Day Appointments Available for Patients in Pain
Sedation Dentistry Makes Every Procedure Comfortable
Flexible Payment Options
What is Root Canal Treatment?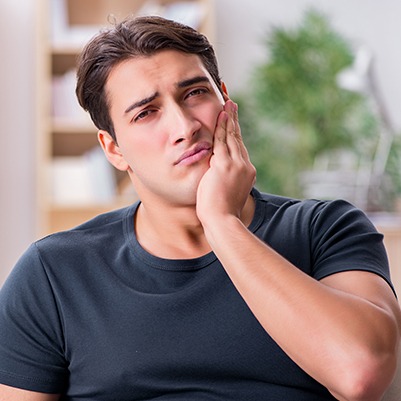 Root canals are performed to treat infected teeth. How do teeth become infected? Once tooth decay reaches the center of the tooth where the pulp lies, an infection can develop quite easily. Inside the pulp are many nerves, blood vessels and connective tissues. While these parts keep the tooth healthy and nourished, an infection can easily disrupt that process. The infection can also spread to healthy nearby teeth, worsening your overall condition.
If you want to prevent future complications as well as save your tooth, root canal therapy is necessary. After all damaged tissue is extracted, most of your pain and discomfort should subside. Soon enough, you'll be able to bite and chew comfortably with little sensitivity. With the latest and greatest in dental advancements, we can make sure that your tooth looks as good as it feels.
The Root Canal Procedure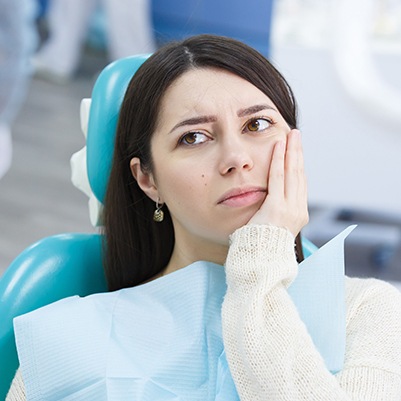 After administering local anesthetic (as well as sedation if requested), we'll create a small access hole in crown portion of your tooth. This allows us to remove infected and inflamed pulp and damaged tissue. Once cleaned and disinfected, we'll seal the inside portion of the tooth with gutta percha material. Finally, we'll place a custom-made crown or filling on top of the tooth to prevent additional damage and future infection. Over the next few days, you'll regain your tooth's full functionality.
After your procedure, you can expect some mild tenderness of your tooth. This is a normal part of the healing process. We recommend taking over-the-counter pain and anti-inflammatory medications to relieve any discomfort felt during your aftercare. Make sure to avoid hard or crunchy foods as you heal. Continue to care for your tooth as you would your other teeth, which means daily brushing with fluoridated toothpaste and flossing. If your permanent crown has not yet been made, make sure to follow all of Dr. Caballeros' aftercare instructions until your next visit.
What to Expect After a Root Canal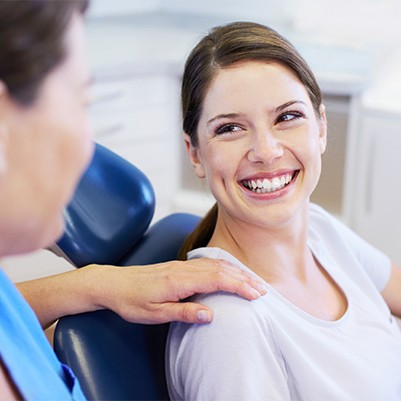 With the right aftercare and proper treatment, your new restoration should last as long as your remaining teeth. During your next visit, we'll examine your tooth to make sure that the crown is stabilized and properly anchored. We want the tooth to remain firm for many years, so if any damage as occurred, we'll make necessary adjustments. We may also perform additional X-rays to inspect healing of the pulp.
Pain and discomfort doesn't have to be a reality. If your tooth is infected, call On Point Dentistry™ today to schedule an appointment!
Understanding the Cost of Root Canals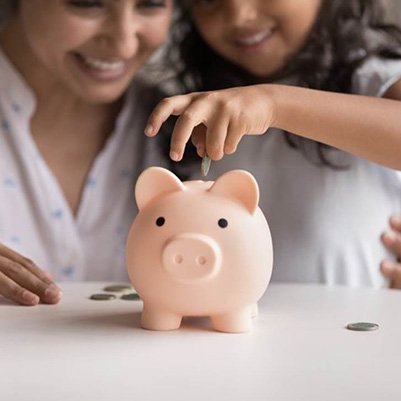 If you require a root canal, then you'll want to know how much you can expect to pay for your procedure. Since every patient's situation will be unique, we won't be able to provide an accurate price estimate until we've seen you for a consultation. Until your appointment, here are several things you should know about the cost of root canal therapy in Frisco.
Factors That Can Affect Root Canal Cost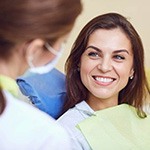 You won't be able to know the overall price of this procedure until we've been able to assess your oral health and situation. That said, several factors can affect the final cost, such as:
Difficulty: Root canals that are more challenging to treat will cost more, especially if we need to bring in a specialist.
Location: Teeth at the back of your mouth may have a higher cost to treat, as molars typically have more roots to work with.
Additional procedures: If you require other treatments, such as a dental crown, this can add to the total cost.
Is It Cheaper to Pull My Tooth?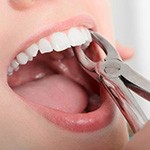 Though it may seem more cost-effective to simply remove the painful tooth, this couldn't be further from the truth. Once you extract one of your pearly whites, your other teeth may begin to shift out of place to fill in the gap. Your jawbone can also start to weaken and deteriorate, altering your facial structure. To prevent these complications, you'll need to replace your tooth, which can cost you much more in the long run, especially if you need replacements every few years. By getting a root canal, you can preserve your natural tooth along with the rest of your smile.
Does Dental Insurance Cover Root Canal Therapy?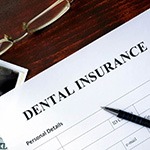 Since root canal therapy is an essential treatment for oral healthcare, you can usually expect some of the total cost to be covered by dental insurance. This can be anywhere between 50-80% after you've met your deductible. Still, every patient's plan is different, so you'll need to verify the details of your policy with your provider before paying for anything. You can also speak with our team members as we'll be glad to help you navigate your plan and make the most of your benefits.
Other Options for Making Root Canal Therapy Affordable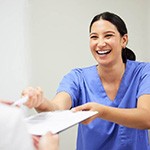 Don't currently have insurance? Our practice has a Loyalty Savings Program that can help cover your basic dental treatments and offer discounts on various procedures with just one low annual fee. We also provide plans through CareCredit—a third-party financier that can help split the price of dental services into monthly installments. These also come with little to zero interest, allowing you to save money while preserving your pearly whites.
Root Canal FAQs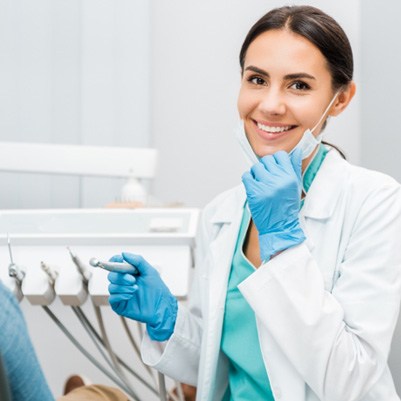 If you would like to learn more about root canal therapy – from what you can eat beforehand to what you can expect after your treatment – you're in the right place. Of course, if you'd prefer to bring any questions or concerns you have directly to our team, that's okay too! You're more than welcome to give us a call no matter what stage of the treatment process you're in.
How Much Pain Is Normal After a Root Canal?
Rest assured, you won't feel any pain during the procedure since we will thoroughly numb the area around your tooth before getting started. With that said, some soreness in the days following your appointment is normal. The good news is that the aftercare instructions we give you should keep that sensation to a minimum, such as sticking to soft foods and taking pain medication as instructed.
Note: if your pain worsens or doesn't subside after three days, call us right away.
Can I Eat Before a Root Canal?
That depends! If you are going to be sedated during your procedure, then we may ask you not to eat anything directly before to prevent nausea. Outside of that, however, you can eat a healthy meal before you arrive at our office. Just make sure not to drink any alcoholic beverages and brush your teeth after you're done eating.
Can I Take Antibiotics Instead of Getting a Root Canal?
The short answer is "no." While antibiotics are known for treating bacterial infections, your bloodstream doesn't reach the pulp of your tooth. As a result, medication alone is not a substitution for root canal therapy.
What Happens If You Wait Too Long for a Root Canal?
Waiting too long to get a root canal can result in numerous problems, including the infection spreading to your surrounding teeth and gums. There have also been several studies that show that the bacteria in your mouth can spread throughout your body, negatively impacting your overall health in the process. For these reasons, the best choice for the health, look, and function of your smile as well as your overall wellbeing is to get a root canal when your dental team first recommends it.
Can Root Canals Be Prevented?
The large majority of the time, yes! Since root canals are typically needed when a tooth has sustained extensive decay, one of the best ways to avoid ever needing one is by implementing a solid oral hygiene routine. That starts with brushing and flossing consistently and extends to getting a dental checkup and cleaning twice a year. We also recommend adopting other habits that benefit your smile, like wearing a mouthguard when you play sports, keeping your consumption of added sugar to a minimum, and not using tobacco products.
Why Do I Need a Root Canal If My Tooth Doesn't Hurt?
If you're unsure whether or not root canal therapy is necessary, you should absolutely talk to your dentist. However, it's important to remember that pain isn't the only sign of a severely decayed or infected tooth. In fact, it's possible for the nerve of a tooth to "die," causing it not to register pain anymore. That's why it's important to be aware of other symptoms, such as a pimple-like bump on your gums.