Porcelain Veneers – Frisco, TX
Achieve a Movie Star Smile
Have you ever been watching a movie and been struck by how many actors and actresses seem to have a perfect set of pearly whites? You're not imagining that; many of these stars actually get their smiles enhanced with a treatment called porcelain veneers. These custom restorations fit right over your teeth to correct all kinds of aesthetic imperfections. Dr. Marco Caballeros, your cosmetic dentist in Frisco, can help you achieve a movie star smile by placing porcelain veneers on your problem teeth. If you're ready to completely transform your grin, give us a call to schedule a consultation.
Why Choose On Point Dentistry™ for Porcelain Veneers?
See Your Future Smile Before Treatment with Virtual Smile Design
Smile Like Your Favorite Stars
Each Veneer Customized to Meet Your Needs
What Are Porcelain Veneers?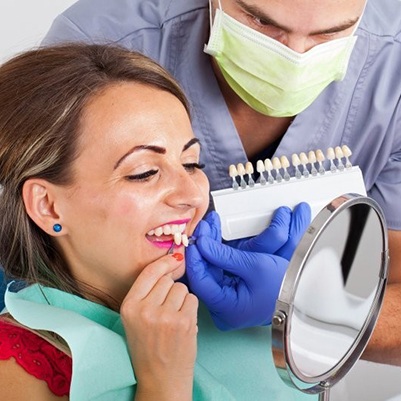 Veneers are super-thin shells of dental porcelain that are placed over flawed teeth to give them an effortlessly perfect appearance. Think of them like little "masks" for your teeth. They can be used to correct multiple problems in one treatment, such as:
Cracks
Chips
Stains or discoloration
Misshapen or worn-down teeth
Stubby teeth
Mildly crooked or rotated teeth
Each and every veneer is customized to meet your exact smile specifications to give you the perfect grin you've always dreamed of having. It's also worth mentioning that dental porcelain is extremely durable as well as lifelike; it resembles tooth enamel perfectly, even down to the way it reflects light.
The Porcelain Veneers Procedure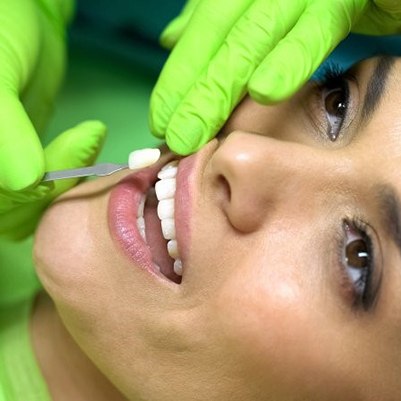 After we've determined that veneers are right for you at your consultation, plan on scheduling two additional appointments with Dr. Caballeros to place your restorations. During the first of these visits, we will shave away an ultra-thin sliver of enamel from your affected teeth. This will ensure that there is enough room in your mouth for the veneers. Impressions of those teeth are then taken and sent to a lab where your veneers will be made. In the meantime, we'll affix you with temporary veneers to wear.
Your permanent veneers will be ready a few weeks later. That's when you'll return to our office. We'll remove your temporaries and lightly roughen the surfaces of your teeth. Then we'll apply dental cement. Your veneers will be precisely placed and then hardened with a curing light. After the bonding process is complete, we'll send you out into the world to enjoy your new and improved smile!
The Benefits of Porcelain Veneers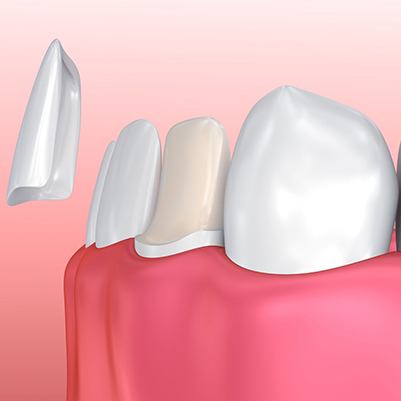 Here are some of the benefits you can reap if you enhance your smile with veneers:
Easy maintenance: All you have to do to take care of your veneered teeth is brush and floss every day, and attend checkups and cleanings with us twice a year.
Versatility: Veneers can be used to fix several kinds of cosmetic imperfections at the same time.
Longevity: Provided you take excellent care of your veneers, they can last up to 20 years before they need to be replaced.
Veneers FAQs
After reading through the above information, you now know all about the process of getting veneers and the benefits this smile-improving treatment provides. With that being said, it is completely natural to still have a few questions on your mind. Since many of our patients prefer to do their research online, we've responded to some of the most frequently asked questions we hear from patients below. Of course, if you would prefer to speak directly with our team, don't hesitate to give us a call!
Will My Natural Teeth Be Affected?
In short, the answer is yes. To ensure your veneers aren't obtrusive or bulky in any way, the teeth being treated will need to be "prepped." This is completed by removing a portion of your enamel. And although only a minimal amount is removed, there is enough of a change to the tooth's structure to make veneers a permanent restoration.
Does Getting Veneers Hurt?
From essential preventive care and restorative dentistry to cosmetic treatments, many patients have one important question on their minds: Will it hurt? If you've found yourself wondering the same thing, then you'll be happy to know that our team goes above and beyond to make the entire process pain-free. This starts with a numbing agent during your procedure and ends will a list of aftercare instructions designed to keep you comfortable as you recover.
How Should I Care For My Veneers?
Like your natural teeth, your veneers need to be cared for properly to last. Therefore, it is of the utmost importance that you implement the below oral hygiene best practices:
Brush your teeth for two minutes at least twice a day.
Floss daily.
Rinse with an antiseptic mouthwash regularly.
Limit hard or sticky foods that can result in chips and cracks.
Quit poor dental habits, like smoking and using your teeth as tools.
Visit our team every six months for a professional checkup and cleaning.
Am I a Good Candidate for Veneers?
The best way to find out is to schedule an initial consultation! This visit gives our team the opportunity to learn all about the components of your dream smile and which dental flaws you are looking to fix. From there, we can conduct a comprehensive dental exam, allowing us to determine the current state of your oral health. If your teeth and gums are in good condition, then we can discuss the next best steps. However, if a dental concern, like gingivitis, is present, we will need to administer the appropriate treatment first.
Are you ready to leave discolored, cracked, and chipped teeth in the past? Do you have more questions pertaining to this cosmetic dentistry treatment? Then don't hesitate to get in touch with our team. We look forward to helping you take the next steps toward your new and improved smile!