Emergency Dentist – Frisco, TX
When Your Dental Care
Simply Cannot Wait
If there is one trait that defines dental emergencies, it's their unpredictability. Despite this, our Frisco dental team is prepared to provide emergency care for patients who need treatment now. It doesn't matter if you've chipped a small portion of your tooth enamel or if you have severe tooth pain, our team has the advanced training necessary to get your oral health back to normal. By giving us a call, you can inform us of your needs and discuss your emergency in more detail with the trusted emergency dentist in Frisco, Dr. Caballero. Then, we'll set aside a time for you to come in, ideally for the same day. If seeing you the same day isn't an option, we'll schedule you for a day and time that meets your schedule.
Why Choose On Point Dentistry for Emergency Dentistry?
Got Tooth Pain? See Us the Same Day!
Comprehensive Dental Care All in One Location
We Put Your Comfort and Needs First
How to Handle Common Dental Emergencies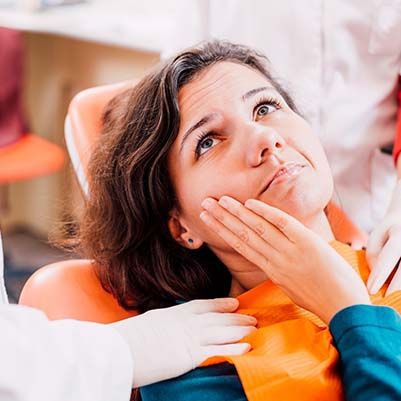 When you're experiencing a dental emergency, the most important thing you can do is stay calm. Start by contacting our dental office as soon as you can so you can schedule an appointment, ideally for the same day. Getting to our dental office quickly allows us to reduce damage to teeth and remove any pain. Before you do arrive though, it's worth knowing the next best steps to take to stabilize your condition. Consider the most common dental emergencies below: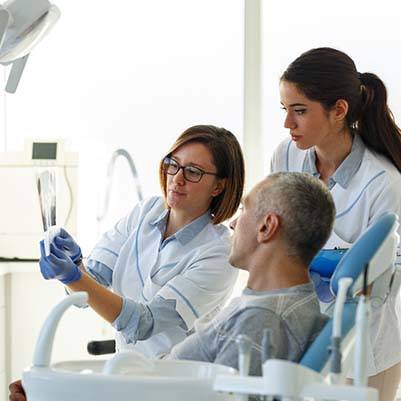 Toothaches
Use dental floss to remove any potential food debris caught in between your teeth. If pain persists, take a painkiller like ibuprofen, give us a call, and schedule an emergency exam. The cause could be a cavity or oral infection, depending on the extent of the discomfort.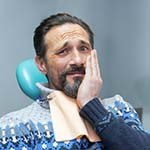 Chipped/Broken Tooth
A cracked or broken tooth requires rinsing your mouth out with cool water, then applying a cold compress to your cheek to reduce swelling. Collect any pieces of tooth that you can and bring them to our dental office. Cover your broken tooth with either sugarless gum or dental wax if the tooth is sharp.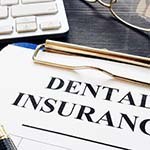 Knocked-Out Tooth
Our team may be able to reattach your tooth if you get to our dental office the same day, ideally within the hour. Until then, locate the tooth and try to place it back into the socket that it came from. Make sure to gently clean the tooth without touching the root nor removing any tissue still attached. You can also store the tooth in milk, saltwater or saliva if reattachment is not possible.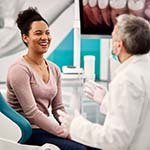 Lost Filling/Crown
A lost restoration can be reattached using either toothpaste or denture adhesive. Use whatever is most convenient. Keep in mind that this solution is only temporary. Avoid chewing until you get to our dental office. If the restoration is intact, we may be able to reattach it without any issue. If severely damaged, we'll need to replace it.
How to Prevent Dental Emergencies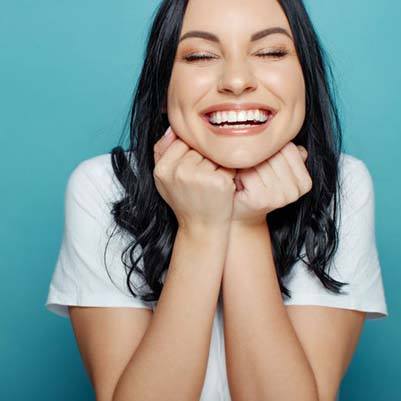 We understand that accidents happen and that not all dental emergencies are preventable. Thankfully, there are many ways you can reduce you and your family's overall risk of needing to schedule an emergency visit. Consider our tips below!
Is anyone in your family active? Provide them with a custom-made mouthguard whenever they play a contact sport. This will keep their teeth protected from sudden impact, such as other players or a bad fall.
Avoid chewing on hard items like ice, popcorn kernels, rock candy, pens, pencils or fingernails. These substances can easily crack or chip teeth.
Need to open a package? Use scissors or a boxcutter instead of your teeth. While teeth are strong, they aren't meant for chewing inedible objects or materials.
Learn More About How to Prevent a Dental Emergency
The Cost of Treating Dental Emergencies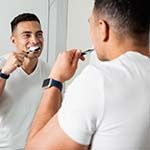 There is no fixed price for emergency dental care because every emergency is unique. Whatever we recommend is based on what your immediate needs are as a patient. For example, we'll do everything first to stop pain, then address the actual repair of your smile. Since emergency dentistry can be an unexpected expense, we'll do everything we can to provide a flexible payment option. While we work with many PPO dental insurance plans, our low and zero interest financing and In-House Loyalty Program can make payments easier!