Emergency Dentist — Frisco, TX
When Your Dental Care Simply Cannot Wait
If there is one trait that defines dental emergencies, it's their unpredictability. Despite this, our dental team is prepared to provide emergency care for patients who need treatment now. It doesn't matter if you've chipped a small portion of your tooth enamel or if you have severe tooth pain, our team has the advanced training necessary to get your oral health back to normal. When your dental care simply cannot wait, don't hesitate to call On Point Dentistry right away for emergency dentistry in Frisco!
Why Choose On Point Dentistry for Emergency Dental Care?
We Put Your Comfort and Needs First
Same-Day Appointments for Emergency Patients
Comprehensive Dental Care All in One Location
What to Do in a Dental Emergency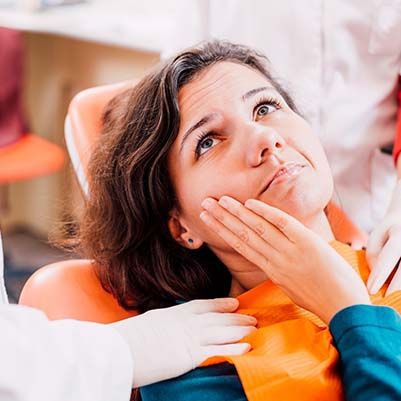 Step 1: Call us as soon as you can. By giving us a call, you can inform us of your needs and discuss your emergency in more detail with the trusted emergency dentist in Frisco, Dr. Caballero. Then, we'll set aside a time for you to come in, ideally for the same day. If seeing you the same day isn't an option, we'll schedule you for a day and time that meets your schedule.
Step 2: Follow our first aid instructions. Once we have you scheduled, our experienced team will give you personalized guidance and first-aid instructions on how to manage your symptoms and keep your emergency from getting worse until we can see you.
Step 3: Get an emergency exam right away. When you arrive, your Carrollton emergency dentist will see you right away. Our goal will be to alleviate any immediate pain you're in and stabilize your condition, all while evaluating your emergency.
Step 4: Review the findings and make a plan. We'll go over our findings with you and then we'll review your treatment options, taking the time to fully explain what they are, their pros and cons, and their estimated cost. We'll work with you to put together a custom treatment plan that works best for you.
Step 5: Get the professional dental care you need. After you've agreed to a treatment plan, our experienced team will get to work repairing your smile right away. We're proud to offer a wide range of services and treatments with the latest technology, so whether you need a filling, root canal therapy, or something else entirely, we can help get your oral health back on track as quickly as possible.
The Most Common Dental Emergencies
Not every dental emergency is as easy to identify as a fractured or knocked-out tooth. If you're not sure whether or not your situation needs urgent dental care, give us a call right away. We'll help you determine how soon you need to see your emergency dentist and give you step-by-step first aid advice for managing your symptoms until you can reach us. Typically, if you answer yes to any of the following questions, you're experiencing a dental emergency:
Is my dental pain interfering with my daily life?
Do my teeth feel loose or out of place?
Is my tooth visibly damaged or discolored?
Are my gums swollen, painful, or bleeding?
Below, you'll find some important information about the most common dental emergencies we treat here at On Point Dentistry.
Understanding the Cost of Dental Emergencies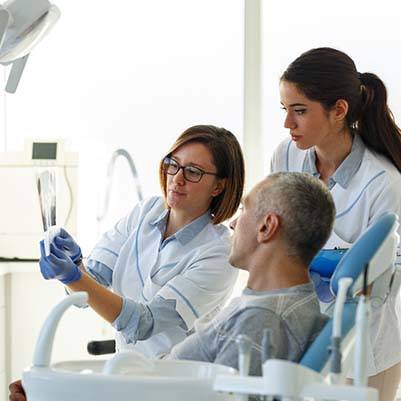 There is no fixed price for emergency dental care because every emergency is unique. Whatever we recommend is based on what your immediate needs are as a patient. For example, we'll do everything first to stop pain, then address the actual repair of your smile. Since emergency dentistry can be an unexpected expense, we'll do everything we can to provide a flexible payment option. While we work with many PPO dental insurance plans, our low and zero interest financing and In-House Loyalty Program can make payments easier!
What Factors Dictate the Cost of a Dental Emergency?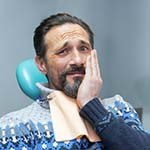 Every person and dental injury is different. There are no one-size-fits-all solutions, so placing a definite price on a particular procedure or treatment is impossible. We will need to examine your problem area(s) and formulate a personalized treatment plan that addresses those needs. Various factors can contribute to the overall cost, some of which include:
Location: If your dentist's office is located in a large city, the cost of treatment will likely be a bit higher because of the higher cost of living and operational costs.
Insured or Not Insured: If you have dental insurance, you will likely have all or a portion of your treatment covered. This is dependent on whether you have met your deductible or not. If you're not insured, you will likely pay more for treatment but can find alternative solutions to make more manageable payments.
Type of Restorative Care Needed: Someone who needs to replace a knocked-out tooth will most likely pay more than someone who needs a filling or dental crown. Depending on the type of restorative care you need, the cost may be higher or lower than someone else's dental emergency.
What Payment Options Are Available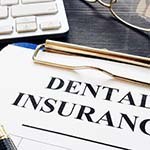 In addition to being in-network with various PPO dental insurance providers, we also offer our patients the opportunity to enroll in flexible financing plans. One of the most common programs is CareCredit. As a third-party financier, they offer low-interest and no-interest payment plans that can help pay for all types of dental treatment.
The Importance of an Initial Consultation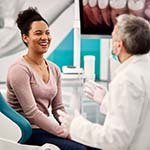 We know you want immediate care when a dental emergency occurs, but it is important that you first schedule a consultation. Why? Because these visits allow our team to fully examine your smile and determine the right course of treatment. It is during this visit that we will also compile the necessary information to formulate a firm cost estimate for your care.
Depending on the type of treatment you need, you can have a better idea as to how much your out-of-pocket expenses will be. If you file under your insurance, you may pay anywhere from 20-50% for your share of the cost, as this is dependent upon the coverage levels within your insurance plan.
If one particular treatment plan doesn't seem to be a feasible option for you, this is a great time to speak with us about alternative options that will help you get the relief you need and avoid future dental problems down the road.
How to Prevent Dental Emergencies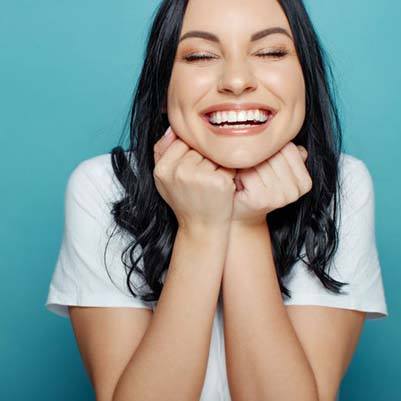 Your emergency dentist in Frisco, TX, is available when a crisis occurs. Knowing this might make you feel more at ease, but instead of preparing for the worst-case scenario, why not look for ways to prevent them in the first place! The team at On Point Dentistry wants you to be proactive about your oral health and that includes being mindful of what you can do to prevent common dental emergencies. To help, we've identified a few areas in which you can better protect your smile from damage and infection. After reviewing the information, please don't hesitate to call our office with any additional questions you might have.
Maintain Good Oral Hygiene Habits at Home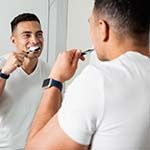 If you think maintaining good oral hygiene isn't enough to protect your teeth from injury or decay, guess again. The few minutes you spent in the morning and at night before you go to bed brushing, flossing, and rinsing your teeth will give you additional protection from tooth decay and sensitivity. Not only does the use of fluoride toothpaste prevent decay and cavities from forming, but it also strengthens tooth enamel, making it more difficult for your pearly whites to be negatively impacted.
Avoid Hard, Crunchy Foods and Objects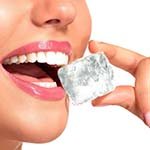 Although they might taste delicious, hard candies and crunchy potato chips can wreak havoc on your teeth. Want to avoid needing a dental crown for a chipped tooth? Stay away from anything that puts too much pressure on your smile when you bite down. The same can be said for ice and inanimate objects you may be prone to chewing on throughout the day (i.e. pens, pencils). Instead, opt for softer foods or those that can be easily cut into smaller pieces. Tempted to grab that nearby pen? Keep sugarless gum nearby to quickly pop into your mouth and avoid the urge.
Wear a Mouthguard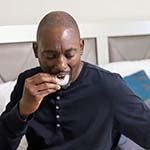 As barriers that serve to protect your teeth and relax your jaw, a custom-made mouthguard can be created for you by your emergency dentist. You might inquire about one if you enjoy playing indoor/outdoor sports or if you are prone to grinding or clenching your teeth at night. Excessive wear and tear, chronic jaw pain, and even knocked-out teeth or busted lips can be prevented thanks to this common oral device.
Dental Emergency FAQ's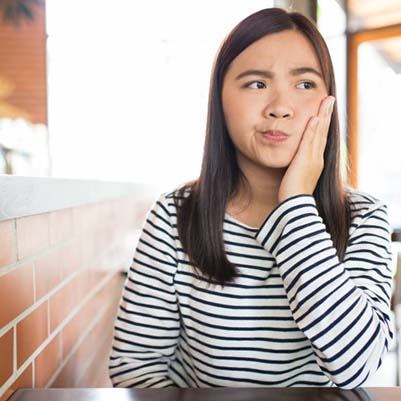 Dental emergencies are often sudden, alarming, and occur at the most inconvenient times. When your dental care simply cannot wait, it's essential that you know what to do. Below, you'll find some of the most common questions we get about dental emergencies so you can be as prepared as possible. If you don't see the answers you're looking for below, don't hesitate to give us a call right away and we'll be happy to help.
When Should I Go to the ER Instead of the Emergency Dentist?
Not all ERs have a dentist on staff, so your local emergency room may only be able to provide temporary pain relief for your dental emergency. In almost every case, you'll save time, money, and hassle by coming to us first. However, you should go straight to the emergency room in you have:
A dislocated or broken jaw.
Oral bleeding that hasn't stopped in 10 minutes.
Swelling in the mouth, face, or jaw that's making it difficult to swallow or breathe.
Is My Toothache a Dental Emergency?
Your smile should never feel uncomfortable, so all dental pain should be looked at by your dentist in a timely manner. Thankfully, most toothaches are caused by non-urgent issues like tooth decay. However, some are warning signs of a serious underlying problem that needs prompt attention. Call us immediately if your toothache is accompanied by:
Severe pain that lasts for more than a day.
Darkening or discoloration of the painful tooth.
Looseness in the painful tooth.
A small, pimple-like bump on the gums near your toothache.
Signs of infection, such as swelling, fever, or fatigue.
What's the Best Way to Ease a Toothache?
There are several ways you can manage your dental pain until you can see us for your appointment. If flossing around the tooth doesn't help, you can try rinsing your mouth out with saltwater to ease inflammation. Applying an ice pack to the area for 10 minutes on, 10 minutes off can also numb the discomfort and reduce swelling. You can also take an over-the-counter pain reliever like Ibuprofen as directed. However, it's important to remember that even if you can manage your toothache on your own, you shouldn't put off seeing us for an exam! These methods are only temporary measures that should keep you comfortable until we can determine the best way to treat the underlying issue.
If you or a loved one is experiencing a dental emergency, don't hesitate to call us and we'll see you as soon as possible.