Tooth-Colored Fillings – Frisco, TX
Seamlessly Making Cavities Disappear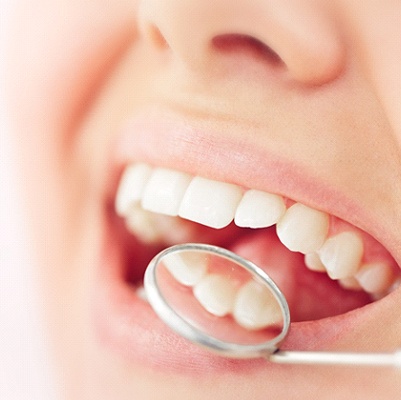 According to the National Institute of Dental and Craniofacial Research, tooth decay remains one of the most prevalent chronic diseases. In fact, over 90% of Americans have had at least one cavity by their 21st birthday! Fortunately, this dental concern is no longer remedied with dark-colored metal fillings. Today, patients can opt for tooth-colored alternatives, seamlessly making cavities disappear. Get in touch with our team today to schedule your appointment or keep reading to learn more!
Why Choose On Point Dentistry For Tooth-Colored Fillings?
Friendly, Experienced Dental Team
No Upselling – Just Customized Treatment Based on Your Needs
Convenient Appointment Options
What Is a Tooth-Colored Filling?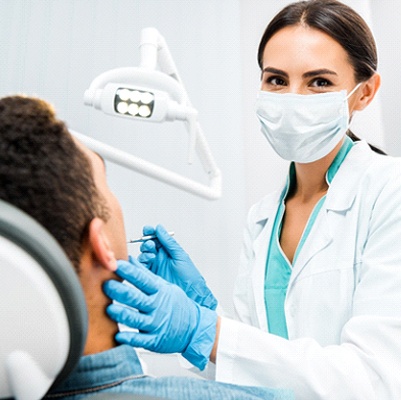 Decades prior, amalgam fillings were used, which were comprised of materials like mercury, silver, tin, and copper. Although effective, the dark-colored spots they left behind left much to be desired. That's where tooth-colored fillings in Frisco come in! By selecting a shade of composite resin that matches your existing enamel, our team can restore both the function and aesthetic of your teeth without calling attention to your treatment. Plus, the flexible mixture is biocompatible and bonds extremely well with your natural tooth's structure.
The Process of Getting a Tooth-Colored Filling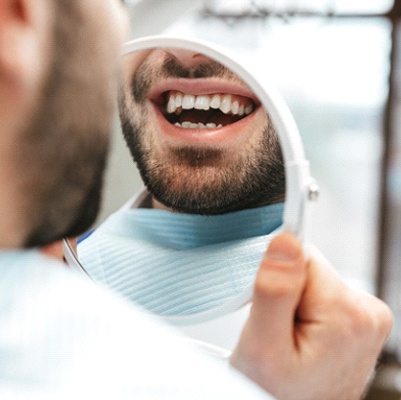 Fortunately, getting a tooth-colored filling is a straightforward and painless process. Before beginning the procedure, we will administer a local anesthetic to completely numb the area, ensuring your comfort throughout your time in the treatment chair. From there, the decayed parts of your tooth will be removed, and the meticulously matched composite resin will be placed. Next, our skilled dentist will sculpt the material into the desired shape, harden it in place, and smooth out any rough surfaces. Once we confirm that your bite feels comfortable, the procedure will be complete!
The Benefits of Tooth-Colored Fillings
Tooth-colored fillings continue to be a popular restorative dentistry solution year after year because of the multitude of benefits they come with, including:
Several lifelike shades available, ensuring the end result is flawless.
No metal materials means no sensitivity to changes in temperature.
Lifelike look and feel.
Completely customizable.
Can last 10+ years with proper care.
If you are struggling with cavities, you're certainly not alone. Before the damage progresses or spreads, get in touch with our team to find out if tooth-colored fillings in Frisco are right for you. That way, we can help you take the next step toward an absolutely beautiful, fully functional smile!