Invisalign® Clear Aligners – Frisco, TX
Skip the Metal Mouth
with Clear Aligner Technology
As an adult with crooked teeth, you may have avoided choosing traditional braces due to their association with teenagers. Maybe you simply don't want metal components touching your sensitive oral structures? Regardless, you don't have to choose between an imperfect smile and metal hardware. Invisalign's clear aligners in Frisco, TX allow for discreet orthodontic treatment and deliver results faster on average when compared to metal braces! You can smile with confidence and no one will even notice that you're undergoing treatment!
Why Choose On Point Dentistry™ for Invisalign® Clear Aligners?
Custom-Made Aligners from Start to Finish
Ideal for Adults and Teens with Crooked Teeth
Caring and Considerate Dentist and Team
What is Invisalign?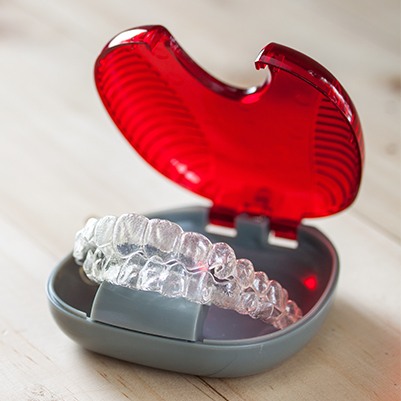 Invisalign uses custom-made, plastic trays to gently shift teeth into a straighter and healthier position. These transparent trays are used instead of metal brackets and wires, so those who may be sensitive to metal materials can rest easy. Each series is created based on a digital scan of your current teeth, ensuring that your trays fit comfortably while still effectively moving teeth. We can use this treatment to fix crooked, crowded, rotated and gapped teeth. However, we can also use it to fix mild to moderate overbites and underbites.
Why Frisco Loves Invisalign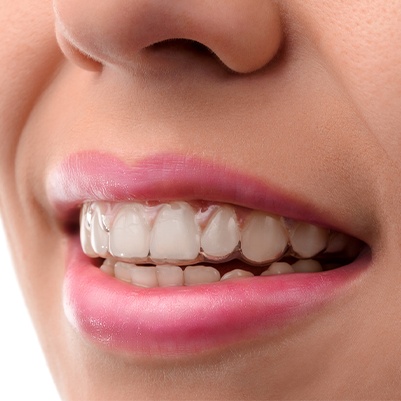 Nearly Transparent – Once worn, your clear aligners will all but disappear thanks to their clear attributes. This means maintaining your smile is easy, even as you undergo orthodontic treatment.
Comfortable Fit – Smooth, medical-grade plastic is used to create clear aligners, which means you can wear them for hours at a time without worry of discomfort. They feel natural against the lips and gums, which is much better than what you'd find with brackets and wires.
Eat What You Want – There's no need to change your diet to accommodate clear aligners. Simply remove them when you eat and practice daily oral care!
Easier Oral Care – Metal braces can make oral care far more difficult. Not only is brushing and flossing easier when using clear aligners, but you reduce your risk of stains and dental disease in the process!