Dental Implants – Frisco, TX
The Gold Standard
for Tooth Replacement
We have many patients who come to our dental office asking if it's possible to replace teeth. Not only do we have multiple solutions, but we often make dental implants our first recommendation! Dr. Caballeros points to dental implants as the best solution for replacing teeth for a wide variety of reasons. Not only are they the only tooth replacement method available today that replaces both the root and the crown, but they provide stability, longevity, functionality and esthetics that are truly unmatched in the field of dentistry. Plus, it doesn't matter how many teeth you're missing; we can replace single, multiple, or all teeth in a single arch with ease thanks to dental implants in Frisco, TX!
Why Choose On Point Dentistry for Dental Implants?
Placement & Restoration Under One Roof
Seamless Aesthetics, Durability & Quality
Highly Personalized Treatment Plans for All Patients
Benefits of Dental Implants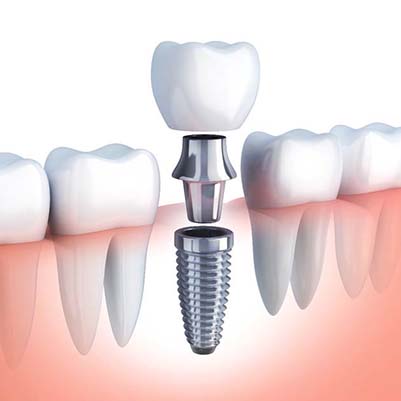 Optimum Stability : Dental implants consist of a titanium post which integrates with the alveolar bone. This effectively functions as your replacement root and provides a strong foundation for your new tooth. Because of this stability, not to mention consistent bone stimulation, you can enjoy the foods you like without worry of your tooth breaking or slipping.
Exceptional Esthetics : The only thing keeping your dental implant in place is the natural bond between the titanium post and your bone and gum tissue. This way, there's no worry about your tooth replacement looking unnatural; no acrylic or metal attachments are needed.
Unmatched Reliability : When placed by a professional, dental implants have success rates as high as 98 percent.
Comprehensive : Another common issue related to tooth loss is loss of the bone surrounding the tooth. When a tooth is no longer being stimulated by the root, it causes bone to resorb back into the body, making the jaw weaker. Dental implants help you retain as much jawbone tissue as possible.
Long-Lasting Durability : Dental implants can last anywhere between 25 years to a lifetime when practicing proper brushing, flossing and maintaining consistent dental checkups and cleanings.
Are Dental Implants Right For Me?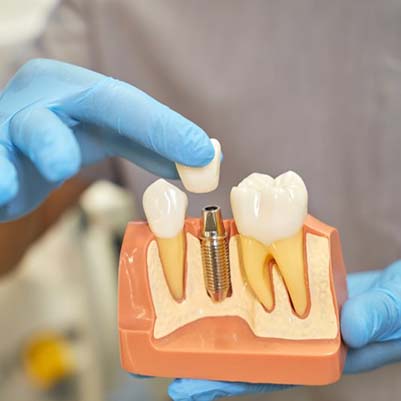 Being eligible for dental implants means you'll need to have good oral health, fair overall health, and enough bone tissue inside your jaw to effectively receive dental implants. If you need help meeting these requirements, we're more than happy to help with preparatory treatments. Dental implants can be utilized in the following ways below: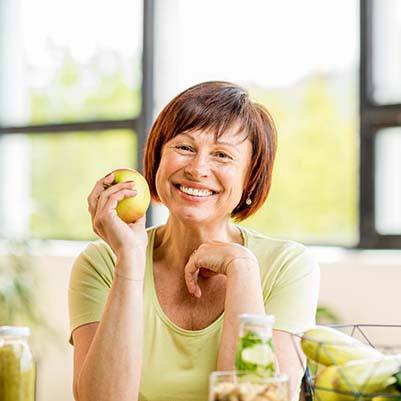 Missing One Tooth
Replacing one tooth is as simple as placing one implant post into your jaw, then capping it with a porcelain crown. There is no need to modify existing teeth in order to complete this step, therefore making it an ideally conservative procedure.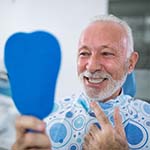 Missing Multiple Teeth
By placing a pair of dental implants, we can effectively create an implant-retained bridge that replaces between three and four teeth at a time! Whenever a restoration is held with dental implants, patients experience longer-lasting replacement teeth and a stronger bite to boot.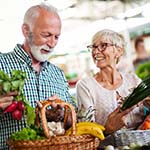 Missing All of Your Teeth
Tired of your current denture slipping and shifting out of place? Dental implants can make your denture, whether it's a full or partial version, far more stable than before! By placing four to six implants throughout the jaw, we can effectively improve your bite strength and create a more comfortable restoration in the process! This way, you can expand your diet and smile with confidence.
Bone Grafting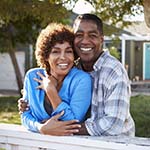 The longer you go with missing teeth, the more your jawbone begins to break down. This deterioration results in brittle bone tissue that is often not thick enough to anchor a dental implant. In order to expand the volume of your bone tissue and make dental implant placement viable, a bone graft can be performed. This procedure involves harvesting bone material either from donated bone or from another area of the patient's body. Lab-made bone grafting material can also be used. After the bone has been created, we'll place it directly inside of your socket and allow it to integrate. Once fully healed, we'll revisit your implant placement.
Sinus Lifts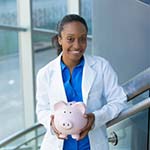 In order to strengthen and thicken the upper back of the upper jawbone, our dental office can perform a sinus lift. This procedure prepares the jawbone so that it can properly support dental implants. It's called a sinus lift because the membrane of the sinus cavity (located right above the upper jaw), usually needs to be elevated slightly so that the bone has room to grow. In most cases, this treatment can be performed in a single appointment.
Start to Finish Convenience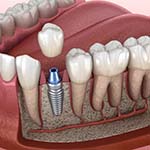 Unlike many other dental offices, our On Point team is capable of performing very stage of the dental implant process in one convenient location – that includes the surgical placement of the implants into the jawbone, the design of your brand-new, customized restorations, and the final placement of your brand-new "teeth." This one-stop approach is extremely convenient without sacrificing the reliable, long-lasting quality you and your smile deserve. It also means you can stay with a team you know and trust throughout every appointment.
Understanding the Cost of Dental Implants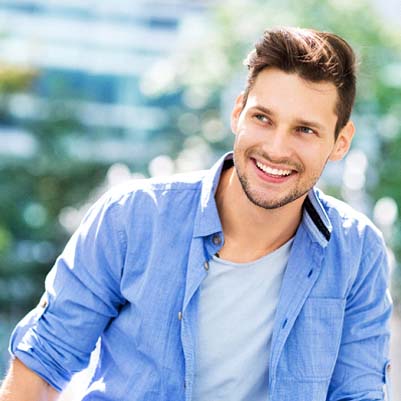 Because every patient has their own unique needs when it comes to tooth replacement via dental implants, the cost of treatment can widely vary from person to person. For example, someone getting one implant will pay far less than someone having multiple implants placed. If you need preparatory treatments like a bone graft or periodontal therapy, that will increase costs as well. Keep in mind that dental implants are meant to be a cost-effective, long-term investment, especially when compared to bridges and dentures. This is largely because you won't have to keep replacing teeth, which is common for traditional tooth replacement.
Dental Implant FAQs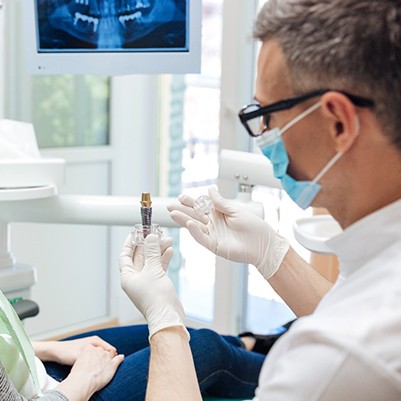 Restoring your smile with dental implants is an investment, which is why it's important to do your research. While we are always just a phone call away, we understand that many of our patients prefer to do some digging online before getting in touch. For that reason, we've responded to a few of the most frequently asked questions below! When you're ready, give our team a call to schedule your initial consultation.
How Long Do Dental Implants Last?
Designed to last a lifetime, dental implants can last for 25+ years with proper care! To prolong the longevity of your new and improved smile, it's of the utmost importance that you implement a solid oral hygiene routine. That starts with your at-home dental care regimen and extends to your six-month checkups and cleanings with your dentist. It is also advised that you avoid unhealthy dental habits, like smoking and chewing on ice, which can damage the implant or the supporting structure.
How Successful Are Dental Implants?
When placed by a skilled professional, dental implants boast an impressive 95% success rate! However, it is important to know that a large portion of their success over the years relies on proper maintenance. In fact, one of the leading causes of dental implant failure is peri-implantitis, which is a form of gum disease that develops from poor oral hygiene. They can also be compromised due to teeth grinding, tobacco use, and certain health conditions (i.e., diabetes, cancer, etc.). Don't worry – your implant dentist will review these risk factors and more at your initial consultation to set you up for success.
Do Dental Implants Decay?
In short, the answer is no. Since dental implants are artificial, they cannot get cavities. Your remaining teeth, however, definitely can. Plus, your gums that hold your dental implant in place can become infected, causing serious complications for your oral and overall health. So, you should absolutely continue to brush at least twice a day, floss daily, and practice other good dental care habits even if all of your teeth are being replaced with dental implants.
Is There Anything I Shouldn't Eat with Dental Implants?
Yes! While you heal, you'll be asked to stick to soft foods. Meals and snacks like scrambled eggs, oatmeal, and applesauce don't require extensive chewing power, ensuring the implant site won't be irritated as you eat. Once you're through the recovery process, you'll be free to enjoy all of your favorite foods again! Just be sure to limit your intake of sugary items, like candy, cookies, and soda, which significantly increase your chance of developing cavities. You should also exercise caution with extremely hard or sticky foods, like peanut brittle, since they can chip or crack your implant.