Dental Implants – Frisco, TX
The Gold Standard of Tooth Replacement
Many of our patients at On Point Dentistry™ come into our office asking if it's possible to replace missing teeth. More often than not, Dr. Marco Caballeros recommends dental implants above all other options. Instead of sitting on the gums like dentures and dental bridges do, dental implants also bring back the root structure of missing teeth. This enables them to provide stability, longevity, functionality, and aesthetics that is truly unmatched by any other solution. Plus, dental implants in Frisco, TX can complete your smile no matter how many teeth you've lost! To learn more about the gold standard of tooth replacement, contact On Point Dentistry™ to schedule a dental implant consultation.
Why Choose On Point Dentistry™ for Dental Implants?
Start-to-Finish Dental Implant Care Provided Under One Roof
Fellow of the Academy of General Dentistry
Flexible, Low-Interest Dental Financing Available
What Are Dental Implants?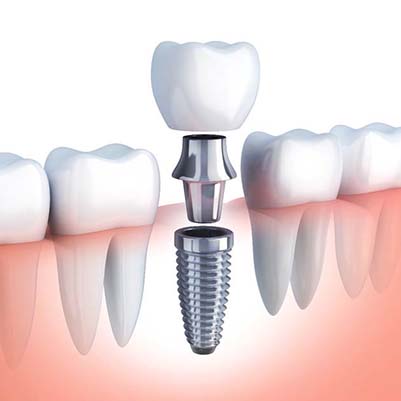 A dental implant has three main components: a titanium post, a restoration (which could be a dental crown, bridge, or denture), and an abutment fixture that connects the two. The titanium post is meant to replace the root of a missing tooth, which is normally hidden underneath the gumline. After the post is surgically placed in the jaw, the biocompatible properties of titanium encourage it to integrate with the surrounding bone tissue. The implant can then support any number of replacement teeth that are attached to the abutment.
As the only option that replaces every single part of a missing tooth, dental implants mimic your natural teeth almost perfectly. They should look, feel, and function so similarly that it might be hard for even you to tell the difference! Better yet, dental implants are capable of lasting for several decades – maybe even a lifetime – because they're so firmly embedded in your jaw.
The 4 Step Dental Implant Process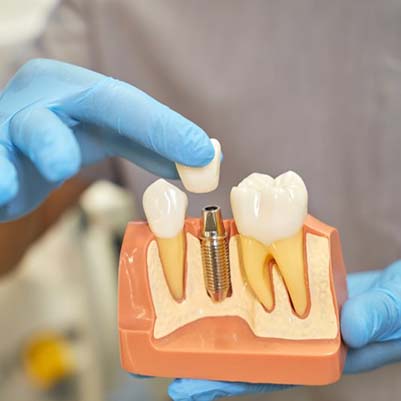 Unlike many other dental offices, our team at On Point Dentistry™ is capable of performing every stage of the dental implant process in one convenient location – that includes the surgical placement of the implants into the jawbone, the design of your brand-new, customized restorations, and the final placement of your brand-new "teeth." This one-stop approach is extremely convenient without sacrificing the reliable, long-lasting quality you and your smile deserve. It also means you can stay with a team you know and trust throughout every appointment. If you'd like to learn more about what to expect, continue reading or give our office a call today!
Initial Dental Implant Consultation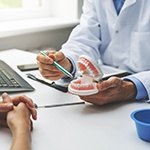 The first step on your journey towards a brand-new smile is a consultation with our team. At On Point Dentistry™, we'll review your medical history and assess your oral health to determine whether or not you're a good candidate for dental implants in Frisco. If you have any underlying issues, you may need to undergo certain preliminary procedures like gum disease therapy, tooth extractions, or bone grafting. Once you get that taken care of, you can move forward with the process and schedule your implant surgery.
Dental Implant Surgery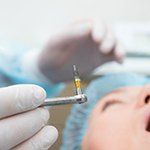 Since our team is able to perform the entire dental implant treatment under one roof, you don't have to worry about working with an outside provider for any part of the process. We'll do it right here in our office! First, we'll numb your mouth to ensure you're completely comfortable. Then, we'll make small incisions in the gum tissue to access your jawbone. Each implant will be inserted at precise locations and angles and your gums will be sutured shut. Finally, a protective cap will be placed over your implants to shield them throughout the healing process.
Dental Implant Osseointegration & Abutment Placement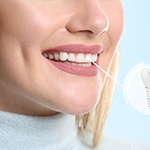 After dental implant surgery, you'll wait about three to six months for osseointegration to take place. This natural process is what allows the implants to fuse with the surrounding bone tissue, providing you with unmatched stability and reliability. Once that's complete, you'll return to the office for a minor surgery to receive your abutments. They're small metal connector pieces that are placed on top of your implants, allowing us to secure your personalized restoration into place.
Delivery of Dental Implant Restorations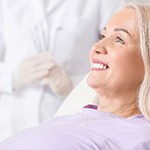 When your crown, bridge, or denture is ready for placement, you'll be called back into the office for that step. Each restoration will be crafted to match your facial aesthetics, blending seamlessly with your remaining teeth. Once in place, no one will even be able to tell you have had dental work done!
Benefits of Dental Implants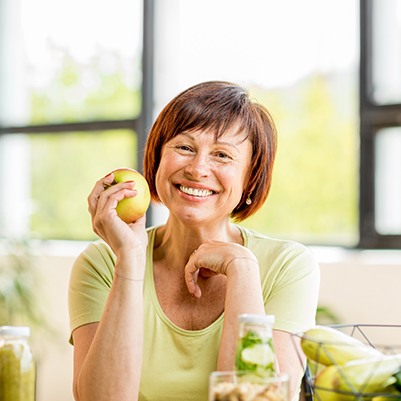 Nowadays, there are more options than ever to treat tooth loss. As an alternative to traditional treatments, more than 500,000 people per year are choosing dental implants to replace their missing teeth. Because dental implants recreate the entire tooth structure from the root up, they provide several exceptional advantages that aren't possible using any other dental prosthetic. Here are just a few of the amazing benefits of dental implants in Frisco!
Day-to-Day Benefits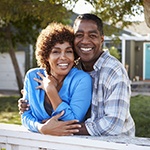 The replacement teeth that are attached to the tops of your implants are customized to match the exact color, size, and shape of your real teeth. You can chew, speak, and smile with confidence knowing your new pearly whites look completely natural.
The firm foundation that implants have with your jawbone gives your restorations unmatched stability. Essentially, this means that your teeth will always stay in place and stand up to practically any food you eat. The same can't always be said for regular dentures!
With dental implants, your day-to-day oral care routine shouldn't change all that much from when you had all of your home-grown teeth. Instead of having to take out your prosthetic to clean and soak it, you can simply brush and floss your replacement teeth as if you'd never lost the ones you were born with.
Health Benefits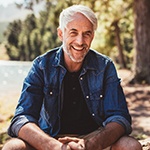 When you lose a tooth, you're also missing the root. This causes your jawbone to slowly shrink because it isn't being stimulated anymore, making it less able to support your remaining teeth. Dental implants act as tooth roots, stimulating new bone growth in your jaw and preserving the teeth you have left.
Another way that dental implants protect your remaining teeth is by being fully self-reliant. While dental bridges require two of your natural teeth to be shaved down for support, a dental implant can stand on its own, so we can leave more of your natural tooth structure untouched.
Since oral hygiene becomes so much easier with dental implants, they naturally lead to a cleaner mouth. As a result, you can expect a lowered risk for gum disease and other oral health concerns.
Long-Term Benefits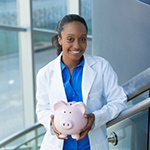 When your jawbone weakens after tooth loss, you might look years older than your correct age because your facial tissues won't have adequate support, leading to wrinkles and sagging skin. By stimulating your jawbone, dental implants can give your facial structures the support they need to restore and maintain a youthful appearance.
Dental implants are far and away the most reliable form of tooth replacement. As long as you take good care of your implants, they can last for many decades and have a success rate of over 95%.
Initially, dental implants cost more than traditional options, but because they can potentially last forever, they're more cost-effective in the long run. With the right care, you'll never need to worry about having your implant replaced like you would need to replace a bridge or denture every few years.
Who Dental Implants Can Help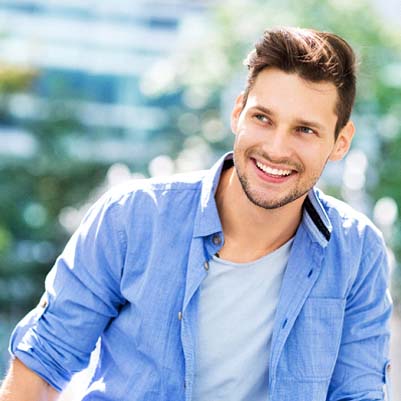 It doesn't matter how many teeth you've lost – if there's empty space in your smile, dental implants are worth considering as a replacement solution. Of course, first we need to decide whether or not the procedure is right for you, which can be done at a brief consultation where we develop a personalized treatment plan based on your oral health needs. The information below covers the kind of people who can benefit from dental implants in Frisco.
Who is a Good Candidate for Dental Implants?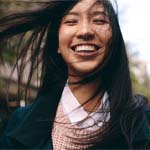 First of all, you need to have a fully developed jawbone, which is why dental implants are usually only recommended for adults. Also, you'll need to be healthy enough for a minor surgical procedure – in other words, your body needs to be in good enough shape to heal properly after implant surgery. Preexisting oral health issues like gum disease or cavities can contribute to dental implant failure and must be treated first. Finally, we'll need to confirm that your jawbone is capable of supporting implants. A lack of bone density will need to be corrected with bone grafting before the surgery can be performed.
Missing 1 Tooth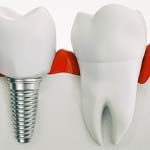 The number of implant posts you receive will depend on how many teeth are missing. Of course, if only one tooth has been lost, then only one implant will be needed. After it has become rooted in the jaw via osseointegration, we can top the post with a crown that has been designed to match the size, shape, and shade of your other teeth. The results are so natural looking that people meeting you for the first time most likely won't even be able to tell that you have a prosthetic tooth.
Missing Multiple Teeth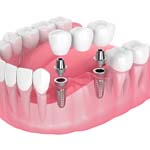 Replacing multiple teeth could mean replacing several teeth in a row or filling in several gaps throughout a single arch. A dental bridge can be used to replace three or more consecutive teeth, but instead of attaching the prosthetic to natural teeth, we can place it on two dental implant posts instead. For multiple gaps, implants can be place in key parts of the mouth, and the empty space will eventually be filled with custom-made partial dentures.
Missing All Teeth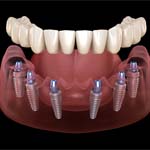 Dental implants can be used to replace any number of teeth – even when an entire arch is missing. This type of implant procedure usually requires 4 to 6 posts, although the exact number depends on a number of factors, like the size of your mouth. (Don't worry; we'll only recommend the minimum number of dental implants needed in your particular situation.) Full dentures can be permanently attached to the implant posts, or they can be designed to snap on and off. Either way, your new smile will be extremely stable and feel much more natural than traditional dentures, and they'll give you a boost in confidence when it comes to eating, speaking, or smiling.
Understanding the Cost of Dental Implants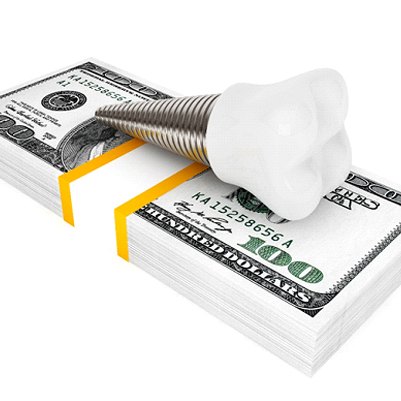 Because every patient has their own unique needs when it comes to tooth replacement via dental implants, the cost of treatment can widely vary from person to person. Keep in mind that dental implants are meant to be a cost-effective, long-term investment, especially when compared to bridges and dentures. This is largely because you won't have to keep replacing your prosthetic, which is common for traditional tooth replacement. Keep reading to learn about the most important factors that affect the final cost of your dental implants.
Preliminary Treatments & Dental Implant Surgery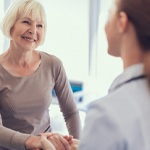 In certain cases, patients need to receive preparatory treatments before they can complete dental implant surgery. For example:
If you need a bone graft or periodontal therapy, that will increase costs of your overall care.
Surgery costs can also fluctuate depending on the complexity of your needs. The more implants you receive, the longer your surgery will need to be to rebuild your smile.
Because we keep the entire dental implant process in-house, you won't need to worry about combining an offsite specialist's fees with the fees from our office. This means you can expect your costs to be more compact and easier to understand.
The Parts of Your Dental Implant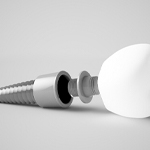 The number of implants you receive will have a direct impact on your final cost. For example, someone getting one implant will pay far less than someone having multiple implants placed. This is because additional materials are needed to create your implant posts (which in this case is titanium). Manufacturers will also have their own unique fees, resulting in different costs depending on where the dentist purchases components from. Our office will gladly break down why we use the implants we do for full transparency.
Final Dental Implant Restoration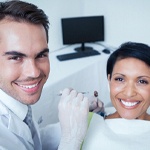 Depending on the number of teeth you need to replace, you may require a more complex restoration to rebuild your smile. If you are only receiving a single dental implant, then only a dental crown is necessary. In the case of more significant tooth loss, an implant bridge or denture could be needed. However, these restorations require more time to design and fabricate as well as more ceramic material, resulting in higher costs.
Does My Dental Insurance Cover Dental Implants?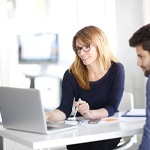 In most cases, dental insurance won't cover dental implants. However, depending on the phase of treatment, dental insurance companies could offer at least partial coverage. The restoration used for your dental implant or preparatory treatments needed to make surgery possible could receive some coverage, but you should speak with the insurance company directly to confirm this. Either way, our team is prepared to discuss your plan's benefits to ensure they are fully maximized. If you have questions or need help financing your care, please let us know.
Making Dental Implants Affordable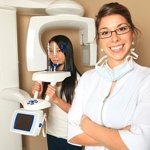 Even if you don't have dental insurance at this time, there are other options available to cover the costs of your dental implants. One of the most common options patients consider is third-party financing through CareCredit, a service our office is happy to walk you through. When you sign up, you can make payments on your treatment over the span of several months, usually with little to no interest attached to these payments. Alternatively, signing up for our loyalty savings program can help you save on other services, making dental implant treatment easier to manage in your budget.
Advanced Dental Implant Procedures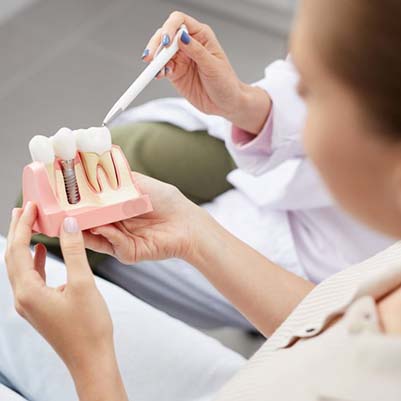 In many cases, a patient may not be a good candidate for dental implants at first, but they can become one with the right preparatory work. The most common reason for this is the fact that the jawbone starts to weaken after tooth loss, rendering it unable to give implants the support they need. Thankfully, at On Point Dentistry™, we offer advanced dental implant procedures that can allow your jaw to give your new teeth the healthy foundation they need to last for years to come!
Bone Grafting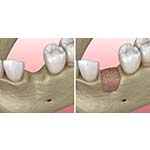 The longer you go with missing teeth, the more your jawbone begins to break down. This deterioration results in brittle bone tissue that is often not thick enough to anchor a dental implant. In order to expand the volume of your bone tissue and make dental implant placement viable, a bone graft can be performed. This procedure involves harvesting bone material either from donated bone or from another area of the patient's body. Lab-made bone grafting material can also be used. After the bone has been created, we'll place it directly inside of your socket and allow it to integrate. Once fully healed, we'll revisit your implant placement.
Sinus Lifts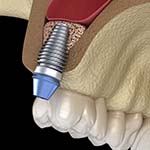 In order to strengthen and thicken the upper back of the upper jawbone, our dentists can perform a sinus lift. This procedure prepares the jawbone so that it can properly support dental implants. It's called a sinus lift because the membrane of the sinus cavity (located right above the upper jaw), usually needs to be elevated slightly so that the bone has room to grow. In most cases, this treatment can be performed in a single appointment.
Dental Implant FAQs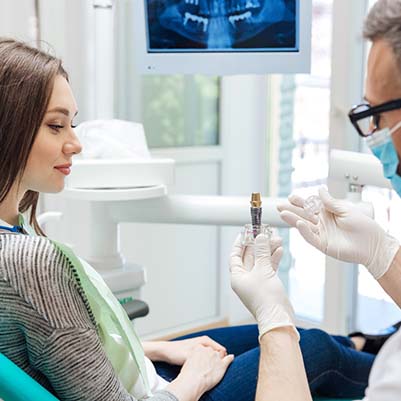 Restoring your smile with dental implants is an investment, which is why it's important to do your research. While we are always just a phone call away, we understand that many of our patients prefer to do some digging online before getting in touch. For that reason, we've responded to a few of the most frequently asked questions below! When you're ready, give our team a call to schedule your initial consultation.
How Long Do Dental Implants Last?
Designed to last a lifetime, dental implants can last for 25+ years with proper care! To prolong the longevity of your new and improved smile, it's of the utmost importance that you implement a solid oral hygiene routine. That starts with your at-home dental care regimen and extends to your six-month checkups and cleanings with your dentist. It is also advised that you avoid unhealthy dental habits, like smoking and chewing on ice, which can damage the implant or the supporting structure.
How Successful Are Dental Implants?
When placed by a skilled professional, dental implants boast an impressive 95% success rate! However, it is important to know that a large portion of their success over the years relies on proper maintenance. In fact, one of the leading causes of dental implant failure is peri-implantitis, which is a form of gum disease that develops from poor oral hygiene. They can also be compromised due to teeth grinding, tobacco use, and certain health conditions (i.e., diabetes, cancer, etc.). Don't worry – your implant dentist will review these risk factors and more at your initial consultation to set you up for success.
Do Dental Implants Decay?
In short, the answer is no. Since dental implants are artificial, they cannot get cavities. Your remaining teeth, however, definitely can. Plus, your gums that hold your dental implant in place can become infected, causing serious complications for your oral and overall health. So, you should absolutely continue to brush at least twice a day, floss daily, and practice other good dental care habits even if all of your teeth are being replaced with dental implants.
Is There Anything I Shouldn't Eat with Dental Implants?
Yes! While you heal, you'll be asked to stick to soft foods. Meals and snacks like scrambled eggs, oatmeal, and applesauce don't require extensive chewing power, ensuring the implant site won't be irritated as you eat. Once you're through the recovery process, you'll be free to enjoy all of your favorite foods again! Just be sure to limit your intake of sugary items, like candy, cookies, and soda, which significantly increase your chance of developing cavities. You should also exercise caution with extremely hard or sticky foods, like peanut brittle, since they can chip or crack your implant.
Does Getting Dental Implants Hurt?
The jawbone doesn't have very many nerve endings and your mouth will be numbed with a local anesthetic before the procedure begins. You will also most likely be sedated, lowering your body's ability to register pain. While the surgery itself shouldn't hurt, you may experience some soreness for a few days afterward. This can be managed with recommended over-the-counter and prescribed pain medications as well as cold compresses. If discomfort persists or worsens after three days, give us a call!
Are Dental Implants Safe?
For most patients who are in good health, dental implants are very successful when placed by a qualified professional. If you have low jawbone density or gum disease, the dentist can fix these problems to make dental implant surgery safer and more successful. If you have diabetes, cancer, or another medical condition that could make surgery or healing risky, we will discuss this during your consultation.
Am I Too Young to Get Dental Implants?
Most dental professionals won't place implants in patients younger than 18. This is because if dental implants are placed before the jaw is finished growing, it could interfere with further bone development and potentially result in complications. Most people's jaws aren't fully developed until young adulthood. During your consultation, we will discuss whether or not dental implants are the right option for you at this time.
Do Dental Implants Feel Natural?
Once they are placed in the jawbone, dental implants should feel just like the roots of your natural teeth. The implants themselves don't have nerve endings, so any sensations you feel in that area come from the gums surrounding the implants.
Maintaining & Caring For Your Dental Implants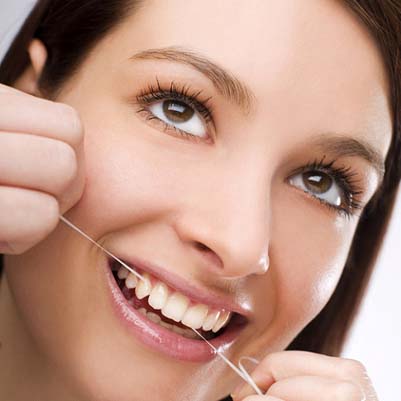 Dental implants have a success rate of 95% even after 10 years, making them incredibly dependable and durable. They can last for multiple decades, and even the rest of your life, with proper maintenance. That's why we've included some simple yet effective tips for dental implant care in Frisco. Read on to learn how you can safeguard your smile!
Make Oral Hygiene a Priority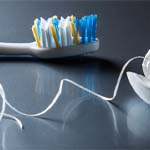 Your first step is to maintain a good oral health routine at home. Thankfully, dental implants can be cared for similar to natural teeth. Be sure to brush twice a day and floss once a day to keep your smile clean. Angle your brush at 45-degrees on the gumline for the most effective plaque removal. You can also add a nonalcoholic mouthwash to your routine, which will help clean areas that are hard to reach.
Eat a Healthy Diet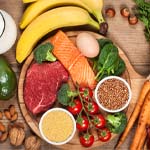 The diet you consume on a daily basis will either negatively or positively impact your oral health. If you eat foods that are extra sticky, hard, acidic, or sugary, you're putting your dental implants at risk of damage and failure. While it's okay to indulge, do your best to eat a diet that is rich in fruits and veggies. Additionally, items that have calcium and vitamin D will keep your jawbone and gums healthy, promoting better implant health in the process.
Break Bad Habits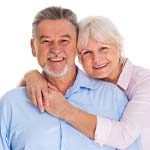 Even with the high success rate of dental implants, you should still be careful to avoid bad habits. Chewing on ice cubes, pens, or any non-food items can quickly damage your smile. That's why you should only use your teeth for chewing, speaking, and smiling. Additionally, avoid bad habits like smoking and tobacco use. Tobacco slows down healing while promoting infection, which is why cigarette use is one of the most common causes of implant failure.
Protect Your Dental Implants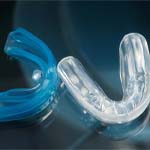 Do you play sports or participate in physical activity? If so, you must protect your dental implants! Trauma to the face or head during sports is one of the most common ways to damage your smile. You can protect your teeth by wearing a mouthguard. Our mouthguards are custom-made, so they fit more comfortably and last longer than store bought products. Additionally, those who are affected by bruxism (teeth grinding) should wear a nightguard. This will prevent your implants from experiencing unnecessary pressure and wear, lowering their risk of failure.
Schedule Regular Dental Checkups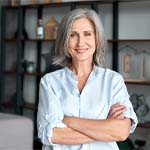 Regular dental checkups are important for everyone, however they are even more significant if you have dental implants. These appointments give our implant dentist in Frisco a chance to ensure that your smile is still healthy and strong. If there are any issues, we can catch them while they're still small, helping you avoid more costly and extensive dental treatments in the future. These checkups are also a great time to ask us any questions you may have about your smile. Please don't hesitate to contact us if you haven't booked your routine dental appointments for this year!
Dental Implant Failure & Salvage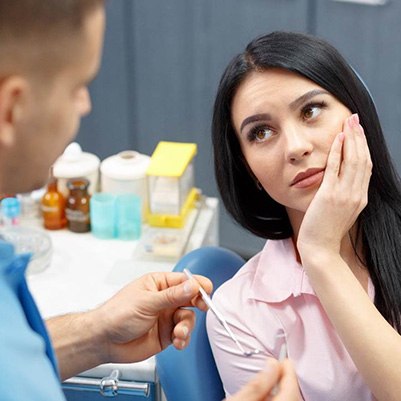 It's easy to see why dental implants have become one of the most popular methods of tooth replacement in recent years. Not only are incredibly lifelike, but they have a success rate of more than 95%! Although it's very rare, dental implant failure still occurs for many reasons, including infection or trauma. If your implant ever feels loose or uncomfortable, you need to get in touch with our team as soon as possible. We'll address the problem and get your newly rebuilt smile back to normal!