Invisalign® Clear Aligners – Frisco, TX
The Best Alternative to Cumbersome Metal Braces
Are you unhappy with your crooked or misaligned smile? No matter whether you're an adult or a teen, committing to years of wearing cumbersome metal brackets and wires can take a toll on your confidence. At On Point Dentistry, we offer a discreet and faster alternative, called Invisalign. By utilizing clear, plastic trays that are custom-fitted for your dental structure, you'll be able to have more control over your image while undergoing treatment. To learn whether you're a good candidate for this advanced orthodontic solution, be sure to contact our office to schedule a consultation today.
Why Choose On Point Dentistry For Invisalign?
Putty-Free Digital Impressions
Convenient Appointment Hours
Experienced Cosmetic Dentist
Why Get Invisalign?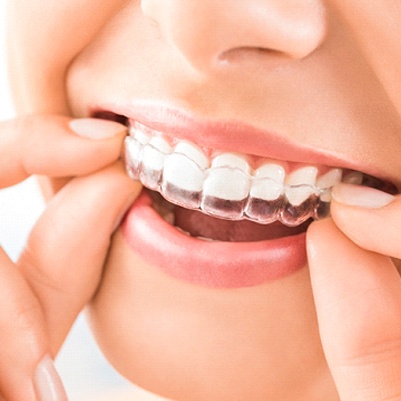 Many patients aren't aware of the fact that Invisalign is an incredibly versatile treatment that can tackle several different orthodontic issues that range from mild to moderate in severity. Here are some problems in which our team may suggest Invisalign as a solution.
Crowded Teeth
Crowded teeth are known to increase a patient's risk of developing common oral health problems, such as cavities and gum disease. To eliminate hard-to-brush nooks and crannies and boost your confidence, we can utilize customized clear braces to gently shift your teeth so they lay flush with each other.
Gaps Between Teeth
Some people may embrace gaps between their teeth; however, others may feel embarrassed about this cosmetic imperfection. Invisalign clear braces can close gaps between teeth and provide you with more confidence in your smile.
Bite Misalignment
Overbite, underbite, and crossbite can all impact the health of your jaw and teeth. Whether you have mild or moderate bite misalignment issues, Invisalign can help adjust it to prevent TMJ dysfunction, teeth grinding, and other conditions that can cause discomfort and dental emergencies.
The Benefits of Invisalign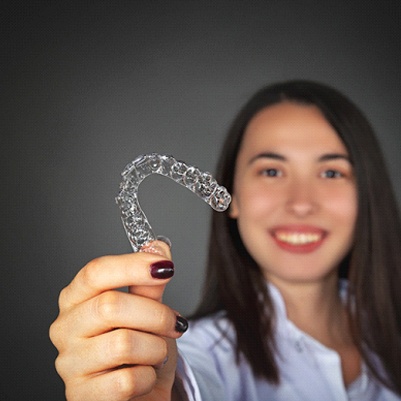 Invisalign offers a variety of unique benefits that set it apart from traditional metal braces. Some of the reasons why patients love using clear aligners to straighten their teeth include:
Discreet: Once worn, your clear aligners will all but disappear thanks to their clear attributes. This means maintaining your smile is easy, even as you undergo orthodontic treatment.
Enhanced Comfort: Smooth, medical-grade plastic is used to create clear aligners, which means you can wear them for hours at a time without discomfort. They feel natural against the lips and gums, which is much better than what you'd find with brackets and wires.
Eat What You Want: There's no need to change your diet to accommodate clear aligners. Simply remove them when you eat and practice daily oral care!
Easier Oral Care: Metal braces can make oral care far more difficult. Not only is brushing and flossing easier when using clear aligners, but you reduce your risk of stains and dental disease in the process!
To learn whether you're a good candidate for the procedure and additional details about the treatment, such as the cost and timeline, be sure to schedule a consultation with Dr. Caballeros, your dentist in Frisco, today!