Invisalign® Clear Aligners – Frisco, TX
The Best Alternative to Cumbersome Metal Braces
Are you unhappy with your crooked or misaligned smile? No matter whether you're an adult or a teen, committing to years of wearing cumbersome metal brackets and wires can take a toll on your confidence. At On Point Dentistry™, we offer a discreet and faster alternative, called Invisalign. By utilizing clear, plastic trays that are custom-fitted for your dental structure, you'll be able to have more control over your image while undergoing treatment. To learn whether you're a good candidate for this advanced orthodontic solution, be sure to contact our office to schedule a consultation today.
Why Choose On Point Dentistry™ For Invisalign?
Putty-Free Digital Impressions
Convenient Appointment Hours
Experienced Cosmetic Dentist
How Does Invisalign Work?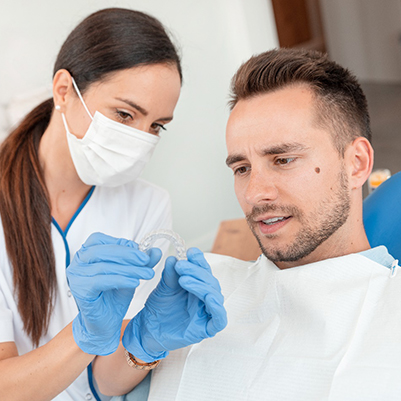 Instead of using metal brackets and wires to move your teeth, Invisalign treatment uses a series of clear aligners to slowly shift your teeth into their new places. You will wear each set for about two weeks before moving on to the next one. Over time, your teeth will gradually move to their aligned locations. Unlike traditional braces, you don't need to have anything tightened throughout your treatment, but you will still need to come to the office to ensure that the treatment is going as planned.
My Invisalign App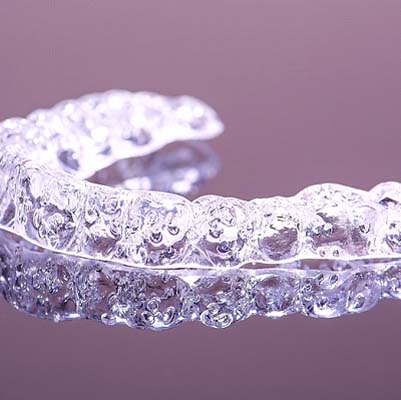 As if Invisalign wasn't easy enough, they offer their own app to help you throughout the process. Whether it's important information, self-guided smile simulation with SmileView technology, or insurance verification, and so much more, the My Invisalign App is here for you. It's simple to use and you can download it in the app store on your smart phone. With this app, we can support you every step of the way with a completely custom, visual treatment plan.
Why Get Invisalign?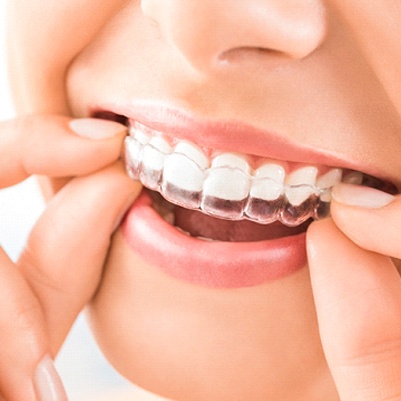 Many patients aren't aware of the fact that Invisalign is an incredibly versatile treatment that can tackle several different orthodontic issues that range from mild to moderate in severity. Here are some problems in which our team may suggest Invisalign as a solution.
Crowded Teeth
Crowded teeth are known to increase a patient's risk of developing common oral health problems, such as cavities and gum disease. To eliminate hard-to-brush nooks and crannies and boost your confidence, we can utilize customized clear braces to gently shift your teeth so they lay flush with each other.
Gaps Between Teeth
Some people may embrace gaps between their teeth; however, others may feel embarrassed about this cosmetic imperfection. Invisalign clear braces can close gaps between teeth and provide you with more confidence in your smile.
Bite Misalignment
Overbite, underbite, and crossbite can all impact the health of your jaw and teeth. Whether you have mild or moderate bite misalignment issues, Invisalign can help adjust it to prevent TMJ dysfunction, teeth grinding, and other conditions that can cause discomfort and dental emergencies.
The Benefits of Invisalign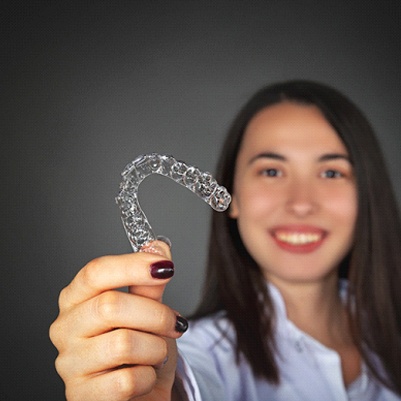 Invisalign offers a variety of unique benefits that set it apart from traditional metal braces. Some of the reasons why patients love using clear aligners to straighten their teeth include:
Discreet: Once worn, your clear aligners will all but disappear thanks to their clear attributes. This means maintaining your smile is easy, even as you undergo orthodontic treatment.
Enhanced Comfort: Smooth, medical-grade plastic is used to create clear aligners, which means you can wear them for hours at a time without discomfort. They feel natural against the lips and gums, which is much better than what you'd find with brackets and wires.
Eat What You Want: There's no need to change your diet to accommodate clear aligners. Simply remove them when you eat and practice daily oral care!
Easier Oral Care: Metal braces can make oral care far more difficult. Not only is brushing and flossing easier when using clear aligners, but you reduce your risk of stains and dental disease in the process!
To learn whether you're a good candidate for the procedure and additional details about the treatment, such as the cost and timeline, be sure to schedule a consultation with Dr. Caballeros, your dentist in Frisco, today!
Understanding the Cost of Invisalign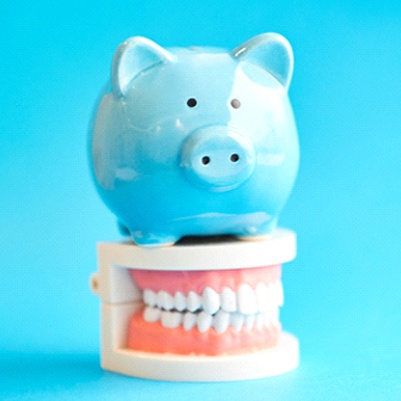 There's no doubt that Invisalign is the best alternative to cumbersome metal braces. But how much will straightening your smile cost you? When you come visit us for a consultation, we'll consider a variety of different factors to create a custom estimate for you. Our experience team will also be happy to review your dental insurance benefits and go over your financing options to ensure your Invisalign treatment is as affordable as possible. Plus, by signing up for our in-office loyalty savings program, you can save up to $500 on your treatment! Keep reading to learn more about the cost of Invisalign in Frisco.
Factors that Affect the Cost of Invisalign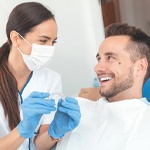 Since every Invisalign treatment is unique, we won't be able to create a personalized estimate before your initial consultation. During this first visit, we'll look at these three major factors that will influence the cost of your Invisalign treatment:
The complexity of tooth movement needed: The more your teeth need to be adjusted, the more expensive your treatment will be. For example, a patient just looking to close the gap between their front teeth will likely pay less than someone looking to correct an entire arch of crooked teeth.
The length of your proposed treatment: Some orthodontic issues take longer to fix than others, which will ultimately require more aligners and therefore a higher cost.
The need for any preliminary treatments: It's essential that your teeth and gums are healthy before we start straightening your smile, otherwise more serious issues could develop. If you need fillings or gum disease treatment before starting Invisalign, we'll naturally need to factor in these as well.
Invisalign VS Smile Direct Club™: Which Costs More?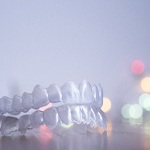 There are numerous types of clear aligners to choose from. Smile Direct Club and other DIY mail-in aligners offer a tempting quick fix at a low cost. While this may sound incredibly convenient at first, we do not recommend them. In fact, neither does the American Dental Association or the American Association of Orthodontists, who officially warn against them.
Mail-in aligners and DIY braces have little to no oversight from a trained professional, which means there is plenty of room for error. If oral health issues aren't caught beforehand, your impressions are taken incorrectly, or your progress isn't thoroughly monitored, you could very well end up with far worse problems than when you started. Save yourself the headache and stress by visiting us for a professional Invisalign treatment. Dr. Caballeros and Dr. Parra will be with you every step of the way to ensure your journey towards a straighter smile goes as smoothly as possible.
Does Dental Insurance Cover Invisalign?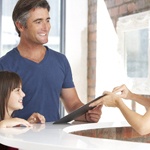 Some dental insurance policies cover orthodontic treatment, but others do not. Even among those plans that do, Invisalign is not always included. You should call your provider or review the details of your plan with one of our knowledgeable front desk staff to learn more about your coverage. We'll always do everything we can to maximize your benefits.
Options for Making Invisalign Affordable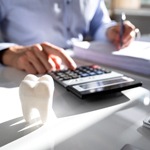 If you don't have dental insurance or don't have coverage for Invisalign, we still offer several ways to help make your treatment affordable:
In-Office Loyalty Savings Program: For one flat fee per year, you can get all the preventive care you need with no deductibles, no pre-authorizations, and no yearly maximums. Plus, you'll receive discounts on nearly all of our dental services, including saving up to $500 on Invisalign!
Flexible Financing Through CareCredit: If you're interested in breaking up the cost of your Invisalign treatment, CareCredit can help. This third-party financing company offers low- to no-interest plans that can break up the cost of your treatment into smaller, more manageable payments that fit into your monthly budget.
Invisalign FAQS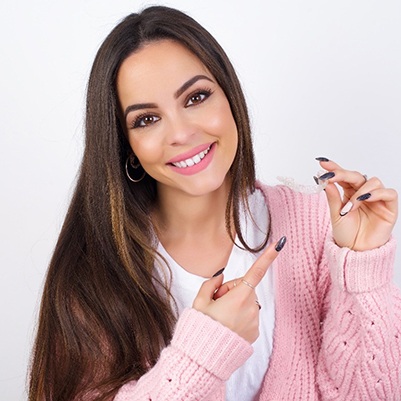 Invisalign's clear aligners have been helping people straighten teeth for decades now, but those new to the treatment tend to have many questions about its effectiveness or the process in general when they first learn about them. Our dentists and team members at On Point Dentistry are prepared to inform you to the fullest extent on not only how treatment works, but why you can expect results that truly last. If your question is not listed below, feel free to give our office a call directly!
What Should I Avoid While Using Invisalign?
While there are many things you'll need to do to ensure a smooth and successful Invisalign treatment, there are also certain habits you should avoid to prevent damaging your aligners or affecting your progress. For example, you should not:
Allow them to get dirty
Touch and mess with your aligners while you wear them
Drink hot beverages (or colored beverages) while wearing them
Eat while wearing your aligners
Skip your oral care routine
Try to rush treatment
Be too rough with them
What Happens if I Don't Wear the Aligners for Long Enough?
If you don't wear your aligners for at least 20 hours a day (22 hours is more ideal), your teeth can actually begin to shift back into their original positions. That means any progress you made with your aligners previously will have been for nothing, causing your treatment to be longer than initially planned. This can even increase the overall cost of your treatment as more checkups would be needed to complete your realignment process. Therefore, it is the most important habit you can maintain as you straighten your teeth.
What Should I Expect After Completing Invisalign?
Once you have worn every pair of aligners in your series, you will need to wear what is called a retainer to keep your teeth straight. This oral appliance is used whether you complete Invisalign or a traditional orthodontic treatment with braces. Retainers are typically worn the same amount of time as your aligners anywhere between six months to a year, depending on the severity of your misalignment or malocclusion. After that time period, you may be told to only wear them at night while you sleep. Failing to wear your retainer (especially immediately after completing your Invisalign series) can put your smile at risk for relapse. Turns out, this issue is one of the leading causes for people beginning Invisalign even after having braces previously.
How Do I Know That Invisalign Is Working?
When you wear your first pair of clear aligners, they should feel very tight on your teeth. This is a good indicator that your aligners are shifting your teeth as intended. If the trays feel loose, especially when you talk or swallow, they may not be shifting teeth as efficiently as they should be. You'll also be able to tell they are working properly based on how your teeth look after a few months of treatment. Being able to view your results in real time is just another benefit of Invisalign that traditional braces can't offer due to them being fixed to teeth!
Does Invisalign Hurt?
Invisalign isn't a painful treatment. Its smooth plastic design makes it one of the most comfortable orthodontic treatment options. When you first get Invisalign, there is an adjustment period where you may experience slight soreness, but this will go away as you get used to the treatment. Invisalign works by slowly shifting your teeth into proper alignment, so you will probably experience some amount of pressure, but that just means the treatment is working! To manage discomfort, over-the-counter pain relievers and cold compresses can help.
Can You Eat with Invisalign?
One of the main advantages of Invisalign is that they are completely removable, allowing you to take your aligners out when it's mealtime. Eating with your Invisalign in your mouth will not only damage your aligners, causing cracks and stains, but it also puts unnecessary pressure on your teeth. The only thing you should consume while wearing Invisalign is water. Otherwise, you should take your aligners out.
Who is Not Eligible for Invisalign?
Invisalign can be used for any patient who has all of their permanent teeth. This means kids can benefit from Invisalign as young as 13 years old. Most healthy teens and adults can get Invisalign, but there are a few exceptions. If you have severe misalignment, Invisalign on its own may not be enough to straighten your smile, so other orthodontic treatments may be necessary. Patients who smoke may not be the best candidates either, as smoke and tobacco can stain aligners and put oral health at risk. Lastly, Invisalign may not be the best option if you have small, misshapen, or eroded teeth. Additional dental work may be necessary. During your consultation, we will discuss whether or not you make a good candidate for Invisalign.