Implant Dentures – Frisco, TX
Completely and Permanently Restore Your Smile
Diminished confidence in your appearance, decreased ability to speak clearly, difficulty with eating all kinds of foods – there are many consequences of losing teeth, and the more teeth you've lost, the worse the consequences are. You need to replace your teeth if you want to lead a healthy, happy lifestyle, but traditional dentures only replace the most visible parts of the tooth, meaning they only offer an incomplete solution. Dr. Caballeros would like to give you the chance to enjoy a new smile that's as strong and stable as your original one thanks to implant dentures in Frisco, TX. Call today to schedule your implant consultation and discover why implant dentures have set a new standard for tooth replacement.
Why Choose On Point Dentistry™ for Implant Dentures?
Start-to-Finish Implant Care in One Location
Low-Interest Dental Financing Options
Experienced, Highly Trained Dentist
What are Implant Dentures?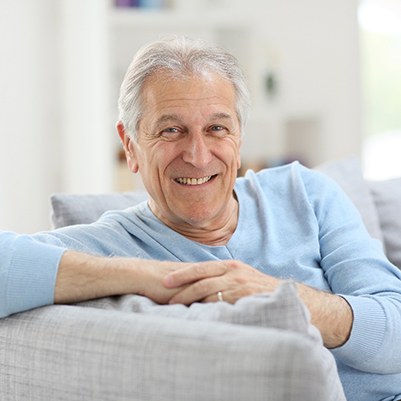 Implant dentures combine realistic-looking dentures designed to replace teeth in a natural-looking way with dental implant posts that fulfil the same role and functions as tooth roots. Both partial dentures and full dentures can be attached to implants for stability and security. Four to six implant posts are generally needed for full dentures; the correct number of posts needed to support partial dentures will vary from person to person. You can choose between one of the following two options for implant dentures based on your situation:
Fixed/Permanent Implant Dentures
Fixed dentures are sometimes called a hybrid prosthesis. Your denture will always stay in your mouth; only your implant dentist in Frisco will be able to remove it. It usually takes more implant posts (around 4 to 6) to support fixed dentures. This tooth replacement option is only available for those who have a sufficient level of jawbone density.
Removable Implant Dentures
These are sometimes called overdentures or Snap-On dentures. The latter name refers to how they snap in and out of place with clips or ball sockets. Removable dentures let you clean every surface of your prosthetic teeth as well as the gums underneath. Fewer implant posts are usually required for this treatment.
The Implant Denture Procedure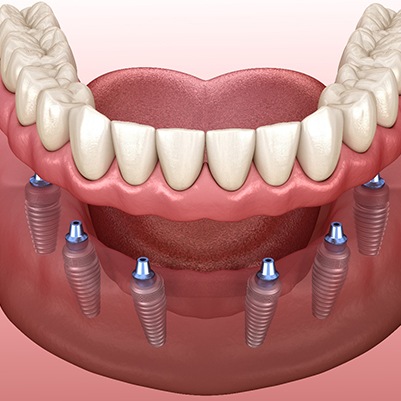 To prepare your mouth for implant dentures, damaged or decayed teeth will be removed, tissue grafts may be performed to reverse and bone loss, and periodontal therapy and other services may be employed to make sure you're at optimal oral health before the procedure. We perform dental implant surgery in-house; once the surgery is complete, the posts will be topped with special caps that will protect them while the implant is joining with the jawbone. The osseointegration process (which is how the implant posts fuse with the bone tissue) takes several months. Once you've fully recovered, abutments will be attached to the posts, and we'll start designing the final denture. We'll attach the final restoration once it's arrived from our dental lab.
Am I a Candidate for Implant Dentures?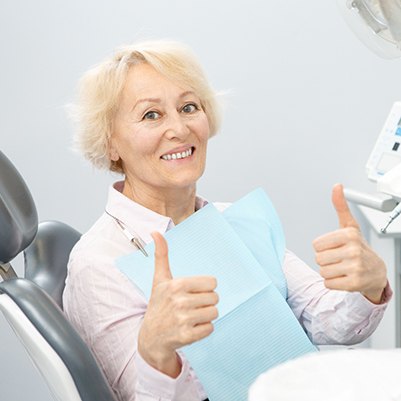 Almost anyone can get dental implants with the right preliminary treatments, precise planning, and the help of highly trained dentist such as Dr. Caballeros. The best candidates for implant dentures are:
Those healthy enough for surgery
Those currently without any gum disease or cavities
Those who have jawbones capable of supporting the implant posts
Those who are willing to commit to the lengthy dental implant process
Benefits of Combining Dentures & Dental Implants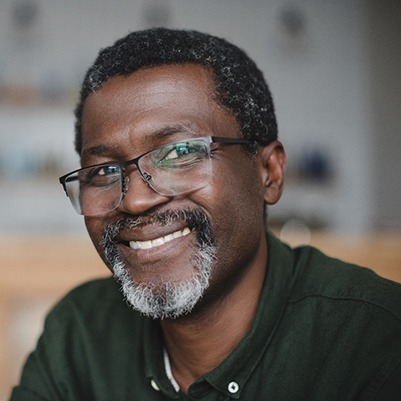 Improved oral health thanks to the minimal maintenance that dental implants require
Stronger, better-preserved jawbones as a result of implant stimulation
Enhanced confidence when smiling or speaking in social situations
The ability to comfortably chew all kinds of foods
Increased bite force and chewing power