Replace Missing Teeth – Frisco, TX
Effective Tooth Replacements
in Modern Dentistry
Approximately 178 million Americans are missing at least one tooth, according to most recent data. If you're missing even just one tooth, keep in mind that there are many individuals just like you. But it's not just a compromised smile they're dealing with. Their oral health is also significantly affected by their missing teeth. Thanks to On Point Dentistry, you can restore your oral health to its fullest and get your smile back. Custom-made restorations, regardless of the number of teeth you may be missing, are a specialty for Dr. Caballeros and his team! Contact us today to schedule your next consultation to discuss how to replace missing teeth in Frisco, TX!
Why Choose On Point Dentistry to Replace Missing Teeth?
We Manage Every Step of Your Treatment!
Natural-Looking Restorations Designed with Your Needs in Mind
Manageable Payment Options Available
What Happens if I Do Nothing?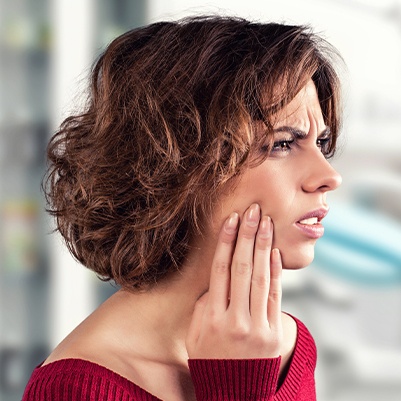 The consequences of tooth loss are far more significant than you'd think at first. While missing a single tooth doesn't sound substantial, the fact is neighboring teeth will begin to shift as soon as your tooth is lost, even if it is slowly. This causes your bite to become misaligned, which allow for bruxism, TMJ disorder and chronic pain to develop. Furthermore, gum tissue is more exposed without a tooth to effectively cover it, leaving it more susceptible to gum disease. The best decision you can make is filling the gap in your smile and avoiding these complications altogether.
Dental Bridges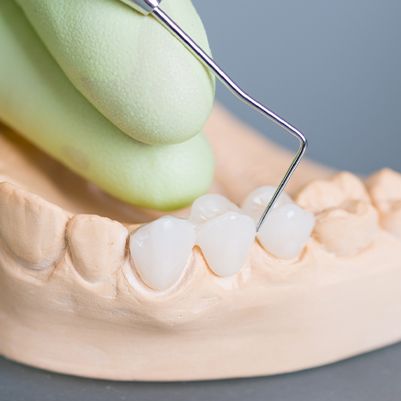 Do you have one or more missing consecutive teeth? Dental bridges are an ideal solution! This restoration is made up of multiple crowns as well as a replacement tooth or teeth. Abutment crowns sit on either end of the replacement teeth (these replacement teeth are called pontics.) The crowns are placed on top of existing teeth and keep the restoration stable, while the pontics prevent neighboring teeth from shifting into the empty space. Design, fabrication and placement only takes a few appointments to complete. Keep in mind we also offer removable crowns and dental implants if you'd prefer a more comprehensive solution.
Dentures & Partial Dentures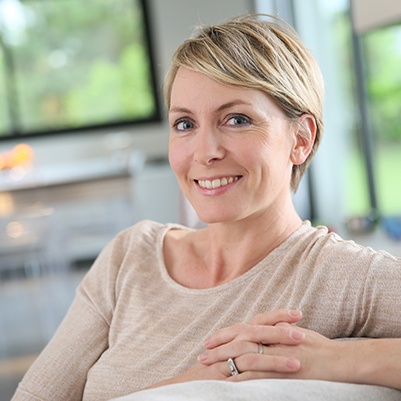 Whether you're missing several consecutive teeth or all the teeth in a single (or both) arches, dentures are a quick and affordable solution to extensive tooth loss. The dentures made today are significantly more natural-looking than those your older family members may have used. The days of bulky, uncomfortable, or unnatural dentures are over thanks to improved dental materials. Each denture made is custom-made to improve your smile's appearance and restore your biting force and confidence to its fullest.
Dental Implants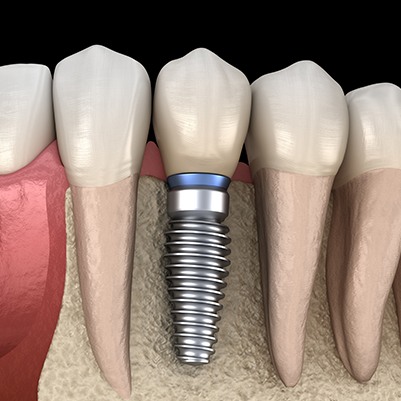 Keep in mind that both bridges and dentures only replace the visible portion of your missing teeth. Dental implants are designed to replace both the root and the tooth simultaneously; this includes the tooth that sits underneath the gum line. Since the components of dental implants integrate with gum and bone tissue after placement, you can expect a tooth replacement that is as durable as it is aesthetically pleasing. Thanks to our expertise, we can perform every step of dental implant placement in one dental office, saving you time and making your overall process more comfortable.