Dental Crowns – Frisco, TX
Beautifully Repairing Damaged Teeth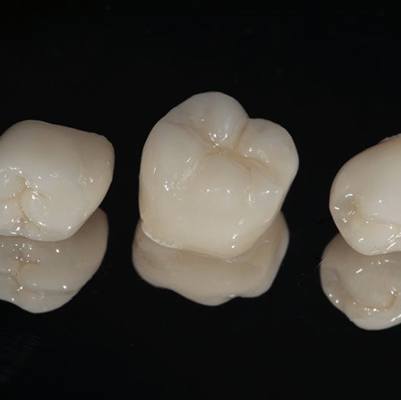 Does one of your teeth feel somehow "less than" the others? Whether your tooth is cosmetically displeasing, chipped, cracked, or has a large cavity, we can restore it with a dental crown in Frisco from Dr. Marco Caballeros. These custom-made restorations not only look completely natural, but they feel just like the rest of your teeth while giving them the strength they need to function at their highest level. If you think you may need a dental crown, contact us today to learn more or to schedule a consultation.
Why Choose On Point Dentistry for Dental Crowns?
Highly Customized and Natural-Looking Restorations
Restore a Broken Tooth to Full Functionality
Improve the Appearance of a Cosmetically Imperfect Tooth
What Is a Dental Crown?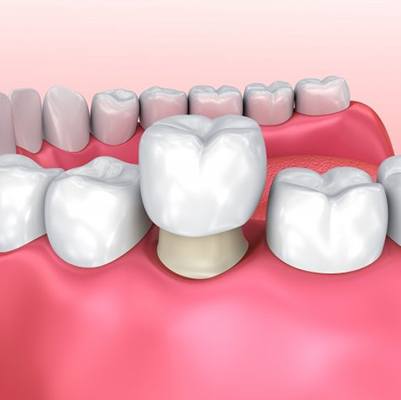 Dental crowns are also known as "caps" because they fit snugly over a tooth, restoring its shape, size, color, general appearance, and functionality. While crowns can be made from metals like gold and silver, we at On Point Dentistry prefer to use dental ceramic because of its incredibly realistic and lifelike qualities. Since each crown is custom made to suit your needs, it will perfectly blend in with the rest of your smile. Unless someone really knows what they're looking for, no one should be able to tell your crown isn't your "real" tooth!
Who Is a Good Candidate for a Dental Crown?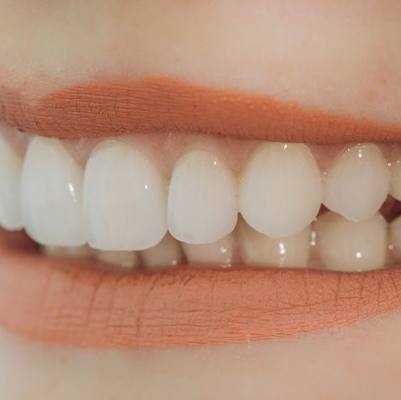 In our experience, dental crowns are ideal in any of the following situations:
Dental implants: Crowns can be used to restore dental implants to give them the appearance as well as the function of a natural tooth.
For a tooth with multiple fillings: When a tooth with several fillings develops another cavity or becomes damaged in some way, it's usually too weak to sustain another filling, which is why we restore it with a crown.
Large cavities: A normal filling is usually enough to repair a small cavity, but if the decay has damaged more than half of the tooth's original structure, a crown may be necessary.
Chips or breaks: Chips, cracks, or other fractures may develop as a result of teeth grinding or biting down on something too forcefully.
After a root canal: Root canal therapy removes the pulp from the tooth and leaves it brittle and prone to breaking unless it's protected by a crown.
What Is the Procedure Like?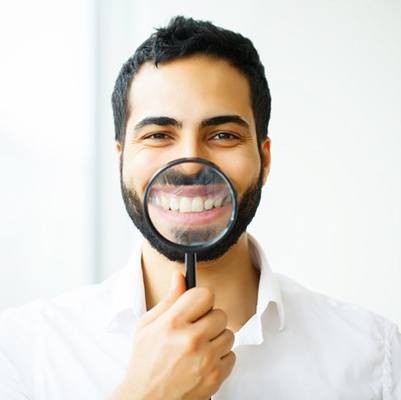 After your initial consultation with your dentist in Frisco, plan on making two appointments with us to receive your dental crown. First, we'll numb the area and prep the tooth by shaving off a tiny sliver of enamel. This will ensure that your crown sits comfortably within the line of your smile and doesn't bulge out in an unsightly way. Once your tooth is sufficiently prepped, we'll take detailed impressions of your tooth and send that data on to our partnered dental lab. Your crown will then be painstakingly crafted to our exact specifications by a team of skilled dental ceramists. In the meantime, we can affix you with a temporary crown to protect your tooth. A few weeks later, when your permanent restoration is ready, we'll replace your temporary with your permanent crown and send you on your way to enjoy your new and improved smile!
What Are the Benefits of Dental Crowns?
In general, when teeth are severely damaged, your only options are to repair them or get them extracted. Since having optimal oral health depends on your having a full set of healthy pearly whites, we want to avoid extraction if at all possible. In addition to saving your tooth from the need for extraction, dental crowns also offer the following benefits:
Longevity: With regular brushing, flossing, and dental checkups and cleanings, your crown can last up to 15-20 years.
Aesthetics: Besides simply restoring your oral health, crowns also look, feel, and function just like your natural teeth.
Durability: While you'll still want to limit chewing on extremely hard objects like popcorn kernels, ice, pens, etc., you should still be able to enjoy chewing crunchy foods with ease.