Dentures – Frisco, TX
A Modern, Lifelike, Durable Solution for Tooth Loss
Despite significant advancements in dentistry, over 35 million Americans are missing all of their teeth. The good news is that tooth replacement solutions have come a long way in the last decade or so. While many patients think of obtrusive or obvious prosthetic teeth when they think of dentures, today, they are a modern, lifelike, durable solution for tooth loss. Keep reading to learn more, or get in touch with our team to schedule an initial consultation!
Why Choose On Point Dentistry™ For Dentures?
Knowledgeable, Experienced Team
Custom-Made, Natural-Looking Restorations
Manageable Payment Options Available
Who's a Good Candidate for Dentures?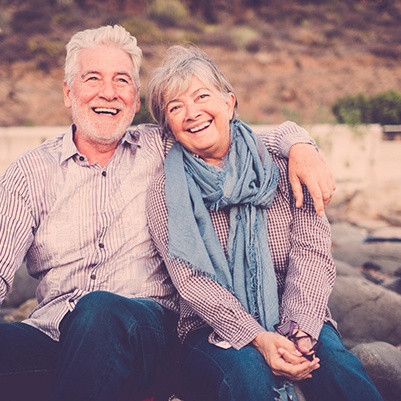 There are many different tooth loss situations where dentures can be a good choice, and most people are able to qualify for them without issue. We can discuss your eligibility at an initial consultation, during which we'll discuss the pros and cons of the treatment. Some people might only be able to get dentures after having preliminary dental work done to improve the health of their gums and jaw; keep that in mind before you schedule your appointment.
Effects of Missing Teeth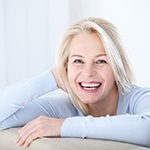 When deciding whether dentures are a good fit for you, it's a good idea to remind yourself why replacing missing teeth is important. There are multiple reasons why you might end up with an incomplete smile (such as tooth decay or gum disease), but the consequences of losing any number of teeth are generally the same:
Your facial features will lose support and start to collapse, meaning you won't look as young as you used to.
Your tongue needs to touch certain teeth in order to make specific sounds while talking. Consequently, tooth loss can lead to speech impediments.
You may have a hard time chewing when some of your teeth are missing. This means fewer options for maintaining a balanced diet.
You're likely to feel less than confident about your appearance if there's a significant amount of empty space visible when you open your lips to smile.
What Qualifies You for Dentures?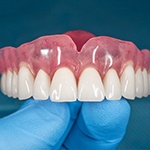 Do you have multiple teeth that are missing or might need to be removed soon? If so, then you could be a candidate for dentures. To qualify for the treatment, you need to have the following:
A mouth that's free of gum disease.
A strong jaw with plenty of bone.
The ability to maintain a healthy mouth and clean dentures.
While we're deciding whether you can get dentures, we will also need to narrow down the kind of denture that you'll need. Full dentures, partial dentures, and implant dentures are all available; once we determine the kind that's right for you, we will let you know why it's a good option and what advantages it has to offer.
Alternative Tooth-Replacement Options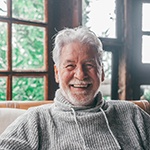 Dentures are an ideal choice for many patients, but no treatment is perfect for everyone. In some circumstances, a different tooth-replacement option might be better suited for meeting your specific oral health needs.
Dental Bridges: While dentures sit on your gums, dental bridges are attached to two of your teeth to fill the gap between them. We might suggest a dental bridge if you have only lost one tooth, or if there are multiple consecutive teeth that need to be replaced.
Dental Implants: Dental implants are used to support prosthetic teeth and preserve your jawbone. You can only have dental implants placed if there's enough bone density in your jaw.
Options for Replacement Teeth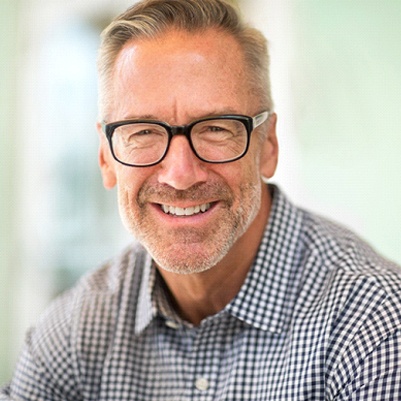 "Dentures" is often used as an all-encompassing term. In reality, it isn't a "one-size-fits-all" solution. With this in mind, our dental team will take the time to review and discuss each of the below options to determine which one is best for your unique dental needs.
Partial Dentures
If you are struggling with advanced tooth loss but still have a few of your natural ones intact, then partial dentures in Frisco, TX may be the solution you've been looking for. With this tooth-replacement option, an impression will be taken of your mouth to meticulously create a replica of the teeth you've lost. From there, the prosthetic teeth will be anchored to a gum-colored base, which will discreetly clasp or clip onto your natural teeth.
Full Dentures
If you are missing an entire arch of teeth, then a full denture is preferable. Similar to partials, the process begins by taking an impression of your mouth. An entire row of prosthetic teeth is mounted onto an acrylic base, allowing the denture to be held in place with natural suction, a special adhesive, or a mixture of both.
Implant Dentures
Implant dentures are where traditional dentures and state-of-the-art dental implants intersect. In this scenario, the custom dentures are anchored in place with the titanium posts traditionally used for dental implants. This provides patients with maximum durability and virtually no movement.
What Are The Benefits of Dentures?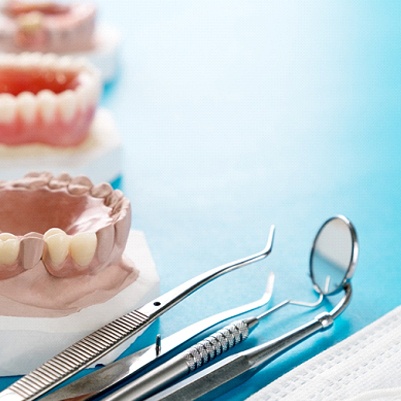 If you are one of the millions of Americans struggling with tooth loss, then you already know that missing even one tooth can negatively impact your smile, bite, and speech. Fortunately, dentures can address all of those concerns and come with a variety of benefits, including:
High-quality materials for a natural-looking appearance.
Immense durability, allowing you to enjoy many of your favorite foods without worry.
Supports facial tissue, which preserves your youthful appearance.
Cost-effective.
Can last 5+ years with proper care.
Caring For Your Dentures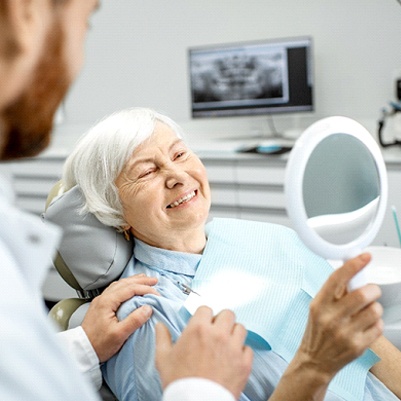 As mentioned above, the lifespan of your dentures depends largely on how well you care for them. Fortunately, by implementing a few best practices, you can enjoy your new and improved teeth for years to come:
Handle your dentures with care.
Clean your dentures daily with a soft-bristled, denture-friendly toothbrush.
Soak your dentures in water or a special cleaning solution overnight.
Rinse your dentures with cool water after eating.
Don't let your dentures dry out.
Attend your biannual dental checkups.
Does it sound like dentures are the tooth-replacement solution you've been looking for? Then schedule your initial consultation with our team! From there, we can conduct a comprehensive dental exam, determine which option is right for you, and help you take the next step toward a full, healthy smile.
Understanding the Cost of Dentures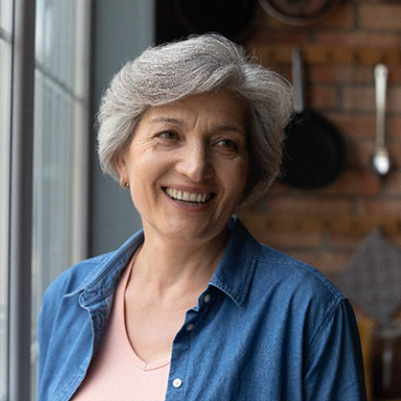 By replacing missing teeth with dentures, you can be sure to enjoy munching on your favorite meals and showing off a full smile again. However, we understand the importance of knowing what to expect from the overall cost of this treatment, especially since there isn't a set price. Various factors can affect what you'll have to pay in the long run. By scheduling an initial consultation with us, we'll assess your oral health and provide you with an estimate of the cost of dentures in Frisco. Until then, here are several things to consider about the price of the treatment.
Factors That Affect the Cost of Dentures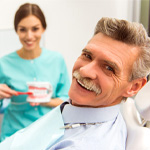 Several major factors that can impact the cost of dentures include:
The number of teeth that'll require replacements.
The kind of dental materials used for the teeth and the base of the restorations can influence the price. For instance, porcelain dentures are typically more expensive than those made of acrylic.
Any preliminary treatments required before you can get your dentures, such as tooth extractions or gum disease therapy, can hike up the overall cost.
Are Implant Dentures More Expensive?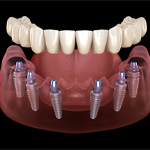 While implant dentures do have a higher initial price compared to traditional ones, there's a good reason why. Instead of relying on the natural suction with the gums, these restorations are directly embedded into your jawbone. Not only does this mean they'll have a more stable foundation for biting and talking, but they'll also preserve your facial structure as well as prevent further tooth loss. Since they'll be anchored to your new permanent titanium roots, you won't have to replace your dentures as frequently as with traditional ones. By having significantly fewer appointments for new restorations, you can save more money in the long run.
Does Dental Insurance Cover Dentures?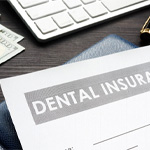 Since dentures are an essential restorative treatment, most dental insurance policies can offer around 50% coverage for the cost. However, since each plan will vary depending on each person, you'll need to confirm the details of your benefits with your insurance company. You can also reach out to our office directly if you have questions. Our knowledgeable staff will do everything they can to help you maximize your benefits, and we'll be more than happy to help you navigate your policy.
Other Options for Making Dentures Affordable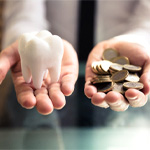 Even if you don't have dental insurance currently, it doesn't mean you'll be completely left on your own. Our team is proud to offer alternative financing options to help make the cost of dentures more manageable. We're partnered with CareCredit—a third-party financier that can break up the overall price of your treatment into smaller, budget-friendly monthly installments. Additionally, many of their plans also come with little-to-no interest! Be sure to consult us if you're interested in signing up with this option, and we'll be happy to see if you qualify.
Denture FAQs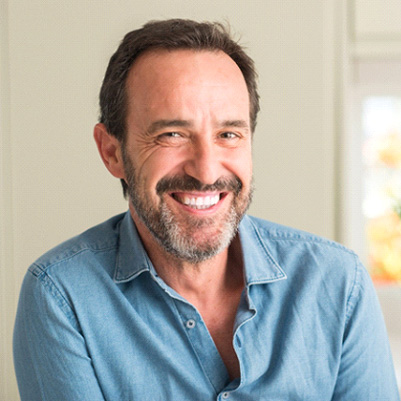 If you're missing one or more pearly whites, then dentures may be the life-changing tooth replacement option you need. While you may be aware of the numerous benefits you can enjoy with these restorations, it's normal to want to know more about the treatment before starting any procedures. That's why our team at On Point Dentistry™ has taken the time to compile and answer several of the most frequently asked questions we get about dentures in Frisco. Read along or give us a call today if you don't see the information you're looking for!
Will It Hurt to Get Dentures?
We'll first examine your mouth to see if you need to have teeth extracted before you can get dentures. If so, then you might experience mild soreness or discomfort after your surgery. However, this can easily be managed by taking over-the-counter or prescribed pain relievers. Any uncomfortable sensations should improve after a few days of your procedure. Once you're wearing your dentures, your mouth may have to get accustomed to the appliance. This process may involve minor irritation on your gums, but it should go away over time. If not, be sure to call us so that we can help.
Is It Hard to Talk with Dentures?
Some patients find it slightly difficult to speak with their new dentures when first wearing them. Though this adjustment period will vary from person to person, you'll likely be able to reduce the time needed by practicing often. Make sure to repeat challenging words or phrases frequently, speak slowly to pronounce them clearly, and try reading to yourself aloud. In time, speaking with your dentures should feel much more natural! If you're still having difficulties talking with your restorations, be sure to let us know, as we can make any necessary adjustments or provide you with denture adhesive.
Can I Sleep with My Dentures?
While you can sleep with dentures on, we highly recommend that you refrain from doing so. Instead, you should remove your restorations before heading to bed every night. Not only will this give your gum tissue rest and prevent soreness or irritation, but you'll also have the opportunity to soak your dentures overnight. By storing them in a glass of water or denture cleaner, you can ensure they remain clean and bacteria-free until you wear them again in the morning.
Should I Have All My Teeth Pulled to Get Dentures?
One of our top priorities is to preserve as many natural teeth as possible. Extractions will be reserved as a last resort, typically when a tooth is severely damaged or decayed and is beyond repair. Should the situation pose a risk to the rest of your oral health, then removing any affected pearly whites may be a viable option. For this reason, our team will thoroughly assess your mouth before making any decisions, that way we can determine the best way to preserve and/or restore your smile.