Dentures – Frisco, TX
A Modern, Lifelike, Durable Solution for Tooth Loss
Despite significant advancements in dentistry, over 35 million Americans are missing all of their teeth. The good news is that tooth replacement solutions have come a long way in the last decade or so. While many patients think of obtrusive or obvious prosthetic teeth when they think of dentures, today, they are a modern, lifelike, durable solution for tooth loss. Keep reading to learn more, or get in touch with our team to schedule an initial consultation!
Why Choose On Point Dentistry For Dentures?
Knowledgeable, Experienced Team
Custom-Made, Natural-Looking Restorations
Manageable Payment Options Available
Options for Replacement Teeth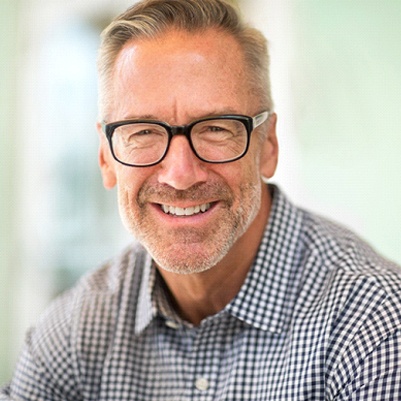 "Dentures" is often used as an all-encompassing term. In reality, it isn't a "one-size-fits-all" solution. With this in mind, our dental team will take the time to review and discuss each of the below options to determine which one is best for your unique dental needs.
Partial Dentures
If you are struggling with advanced tooth loss but still have a few of your natural ones intact, then partial dentures in Frisco, TX may be the solution you've been looking for. With this tooth-replacement option, an impression will be taken of your mouth to meticulously create a replica of the teeth you've lost. From there, the prosthetic teeth will be anchored to a gum-colored base, which will discreetly clasp or clip onto your natural teeth.
Full Dentures
If you are missing an entire arch of teeth, then a full denture is preferable. Similar to partials, the process begins by taking an impression of your mouth. An entire row of prosthetic teeth is mounted onto an acrylic base, allowing the denture to be held in place with natural suction, a special adhesive, or a mixture of both.
Implant Dentures
Implant dentures are where traditional dentures and state-of-the-art dental implants intersect. In this scenario, the custom dentures are anchored in place with the titanium posts traditionally used for dental implants. This provides patients with maximum durability and virtually no movement.
What Are The Benefits of Dentures?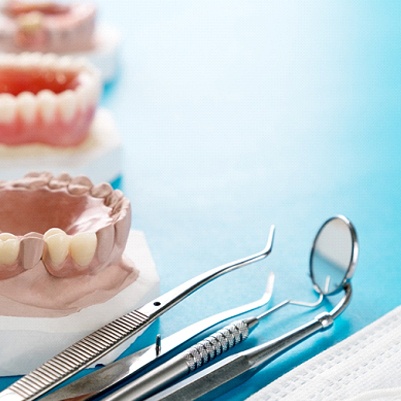 If you are one of the millions of Americans struggling with tooth loss, then you already know that missing even one tooth can negatively impact your smile, bite, and speech. Fortunately, dentures can address all of those concerns and come with a variety of benefits, including:
High-quality materials for a natural-looking appearance.
Immense durability, allowing you to enjoy many of your favorite foods without worry.
Supports facial tissue, which preserves your youthful appearance.
Cost-effective.
Can last 5+ years with proper care.
Caring For Your Dentures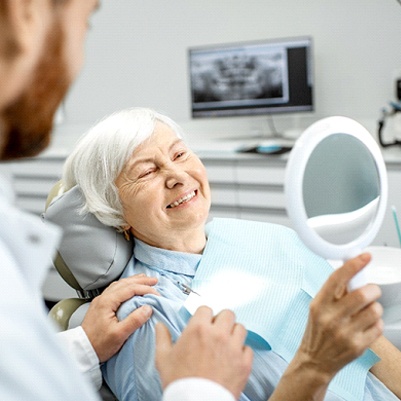 As mentioned above, the lifespan of your dentures depends largely on how well you care for them. Fortunately, by implementing a few best practices, you can enjoy your new and improved teeth for years to come:
Handle your dentures with care.
Clean your dentures daily with a soft-bristled, denture-friendly toothbrush.
Soak your dentures in water or a special cleaning solution overnight.
Rinse your dentures with cool water after eating.
Don't let your dentures dry out.
Attend your biannual dental checkups.
Does it sound like dentures are the tooth-replacement solution you've been looking for? Then schedule your initial consultation with our team! From there, we can conduct a comprehensive dental exam, determine which option is right for you, and help you take the next step toward a full, healthy smile.